Christmas For Kids at GAK!
It's common to hear parents on Christmas day moaning that once presents have been ripped open, their children are more interested in playing with the packaging rather than the toys. It's easy to see when boxes are turned into drum kits, tubes of wrapping paper become guitars and popping a sheet of bubble wrap is more exciting than the Lego set you spent ages hunting for.
To stop this from happening we have compiled some of the best musical instruments for your kids this Christmas, so your little ones can shake, strum, bash & beat their way through the holidays.
Why not have a look at the full range of gifts for kids we have for yourself. To make sure that your packages arrive in time for Christmas check out our opening times and last delivery dates.
We've handpicked some of the very best products that we think make fantastic gifts for your upcoming Rockstars!
One of the premier names in guitar manufacture, Ibanez has produced a fantastically low-priced package with everything for the beginning guitarist. The Ibanez V50 natural-finish acoustic guitar features a spruce top for fantastic tone.
The Ibanez Jam Pack package also includes an accurate electronic tuner, padded Ibanez gig bag, Ibanez guitar strap, pics and accessory pouch. The Ibanez V50 full-sized dreadnought body with a spruce top offers full tone down to the lowest frequencies. – £105
One of Ashton's most popular models, the D25 allows you the freedom to play anywhere, anytime. Head down to the beach or over to your mate's place and enjoy the warm sound of this steel string guitar. Available in matt or high gloss finish, the huge range of colours and included extras will make learning, practising and performing so enjoyable. – £119
The all-new CC-60S boasts upgraded features at an attractive price, including a solid spruce top, rolled fingerboard edges and a new 'Easy-to-Play' neck shape. The CC-60S is an entry-level Classic Design model, and features mahogany back and sides and a rosewood fretboard. The concert-sized body provides intimate, well balanced tone and a more comfortable feel for smaller-framed players. – £187
---
The Epiphone's Les Paul Player Pack contains everything you need to start playing the guitar, and nothing extra that you don't. This package includes a genuine Les Paul Special-II LTD guitar and a 10-watt Epiphone Electar amp. Epiphone also includes a clip-on headstock chromatic tuner, a guitar lead, a guitar strap, medium picks, and a gigbag. And this pack even comes with free eMedia downloadable guitar lessons from covering a range of genres, from rock, to blues, to folk, and country, right up to hard rock and metal. – £189
The Ibanez IJRG200 is a complete entry-level guitar package, boxed with everything that you could ever need to start your journey with the electric guitar. The pack features the Ibanez GRG electric guitar, amplifier, guitar tuner, guitar lead, headphones for silent practicing, guitar strap, guitar gig bag to protect the guitar during transport and when not in use, plectrums and accessories pouch.      – £199
The Squier Affinity Strat Pack HSS includes everything you need to start rocking right out of the box. The Affinity Series Stratocaster features a fat-sounding humbucking bridge pickup and two single-coil Strat pickups for versatile tone. A vintage-style Fender tremolo bridge, "C"-shaped maple neck and a lightweight, comfortable body round out the offerings.
The included Fender Frontman 15G amplifier boasts 15 Watts of power and features both clean and overdrive channels, giving you tones suitable for almost any genre. Plus this guitar Comes with a FREE 30 day trial period Fender Play trial: an online system which helps players get the most from their instrument. – £264
Epiphone introduces the PRO-1 Explorer Performance Pack with Rocksmith the fastest way to learn guitar, for the ultimate pack for new players. Epiphone Packs are renowned for giving players incredible value in an all-in-one package. And the new PRO-1 Explorer Performance Pack tops them all!
The Epiphone PRO-1 Explorer Performance Pack also features a cool Epiphone MityPRO Mini-Amplifier with built-in distortion powered by a 9V battery. Plus, the Pack comes with free eMedia™ On-Line Lessons, a Beginner's Guide to Guitar by guitar and tech guru Craig Anderton, and a deluxe fitted gigbag. Altogether, the PRO-1 Explorer Performance Pack offers unbeatable value you can only get from Epiphone! – £279
---
A super portable way to bring a summer vibe to your next campfire sing-a-long! Available in 7 different colours with a colour matched bag, our Hawaiian style Ukeleles feature geared machine heads to keep you in tune longer. They'll bring a smile to everyone's face. – £19.00
The Hano concert ukulele is made from Indonesian Sengon wood and fitted with Aquila strings and a Nubone saddle which improves the lower and middle tones of the ukulele. The body comes in a transparent semi-gloss finish, available in a choice of 4 colours. – £38.99
Bohemian ukuleles are light, with a small body shape that allows increased access to the higher frets (and whole new sonic worlds!). Constructed with an extended tenon design, the neck extends to the end of the can. The internal wood structure inside of the body creates exceptional balance and weight distribution, so these ukes always rest comfortably. The removable back panel, very unique to Bohemian, gives easy access to the entire interior of the ukulele body. – £129
---
The Yamaha PSR-F51 keyboard is a perfect entry-level, straightforward keyboard designed for home, education or general practice. There's plenty of sounds and functions on the PSR-F51 to keep you entertained for hours including 114 rhythms and 120 voices from all kinds of instruments including pianos, strings, guitars, synths and much more. – £90
The Korg tinyPiano is a fun, great-sounding, "tiny" digital piano. Aimed at children, the Korg tinyPiano is the ideal musical instrument to get them learning at the very early stages, but the difference between this piano and many other children instruments is that this isn't a toy. The Korg tinyPiano doesn't hold anything back when it comes to sound quality and imitating authentic grand pianos with it's correct pitch and accurate sound that will hopefully inspire children to want to play better and more professional models as they grow older. – £139
With superb tone in a light and compact instrument, the Piaggero NP-32 is an ideal combination of elegance and simplicity. Designed around the essential elements that let you concentrate on playing, NP Series keyboards focus on the inspiration and enjoyment of playing a piano and feature the pure tone of one of the finest grand pianos that Yamaha has ever made.
The compact, elegant silhouette of the Piaggero NP-32 is certain to catch your eye and make a lasting impression. Featuring a simple, practical design with only a few buttons, this space-saving stylish instrument can be played right out of the box. Choose from a black or white finish to suit your taste and playing environment. – £278
The Roland FP-30 Digital Piano is the successor to the world famous Roland F-20. From the ground up, it has been designed for those who have dreamt of having a piano, but may not have the space or budget for a full size grand. The Roland FP-30 may be light and portable, but no expenses have been spared when it comes to quality.
Featuring built-in speakers and professional quality keys that provide an authentic piano touch with maximum expression. There is also a headphone output, and quiet keystroke, allowing you to enjoy practising without disturbing the neighbours (or relatives.) – £539
---
Featuring a 14×5.5 snare, 10×8 and 12×9 shallow, easy tune rack toms and a focused 16×14 floor tom, this kit is finished with a 22×16 kick that stands it's ground in any live situation. Complimented with a full set of 200 series double braced hardware, the kit is ready to head from rehearsal to show and back home time and time again, standing you in good stead as a busy musician.
What's more, each Tornado kit is supplied with a 2pce cymbal set, Hi Hat & Crash/Ride to ensure it can be played straight out of the box! – £329
The Yamaha Stage Custom Birch 4 Piece Shell Kit consists of 3 Be Bop sized drums and a CL945LB ball and socket tom arm. It is great for everyone from beginners and educators to working professionals on small stages or looking for portability. 100 percent birch shells offer a cutting low-end sound that balances out with sustained overtones. A stunning lacquer finish and low-mass lugs aid in the great sustain of this drum set. – £449
Unbeatably affordable for anyone who wants to build their own instrument: Schlagwerks cajon construction kit in heights 45 cm or 50 cm. The most successful cajon assembly kit of recent years is now even better – thanks to the newly designed and precisely prefabricated parts, and with the tension belts and quick-drying adhesive included, it now takes even less time. Easy playing for cool sounds! – £44.99
---
If a full, long scale bass guitar is just too much to manage, the superb new 7/8 size Encore E20 is the perfect answer. The E20 allows younger players and players with smaller hands to experience all the feel, sound and excitement of playing bass guitar.
This complete bass guitar package offers amazing value for money with equipment including a 10 watt amplifier, stand, strap, guitar bag, cable, tuner, DVD and plectrums. – £195
The IJSR190 pack also includes a sturdy gig bag, to protect your instrument when getting to and from lessons or, when you're ready, hitting the road and starting gigging, and a stand to display your bass when not in use. It also includes a pair of headphones, so you can practise without annoying the neighbours, an electronic tuner to help you sound great, a set of picks and a pouch for storing all these great accessories. – £208
The Epiphone EB-0 SG Style bass guitar has a short-scale and narrow neck making it very easy to play. But more than that it's also an entry-level reissue of an absolute classic. Back in the '60s the original Gibson EB-0s and EB-3s were renowned for their unique tones.
This Epiphone has the same mahogany body and rosewood fingerboard but, as an interesting change to the original spec, has a bolt-on neck. – £199
---
If you're looking to step up your podcasting game, or you want to record professional vocal or instrument tracks, look no further than LD Systems impressive condenser microphone set! You'll get everything you need to start recording straight out of the box. This mic setup is ideal for beginners and mobile musicians. Would make an excellent gift.
In the package, you will find a D1013CUSB Condenser Microphone, a Pop filter and a Microphone stand. – £59
The Teenage Engineering PO-16 Factory Pocket Lead Synthesizer is a powerful melody synthesiser in the palm of your hand. PO-16 Factory Pocket features animated graphics, sync, punch in effects, real synthesiser engine, alarm clock and a built in speaker. The Teenage Engineering pocket lead synth is small enough to fit in your pocket and priced competitively so anyone can have powerful synthesiser capabilities without breaking the bank. – £49
Analogue drum machines never went out of fashion, but apart from a small number of boutique manufacturers, they all but went out of production for years, until now!
KORG have answered many a producers dreams by producing VOLCA BEATS. A compact affordable all analogue drum machine housed in their popular VOLCA format with a sonic punch that has made many a seasoned pro sit up and take notice. – £125
The Yamaha reface CS has been designed for the stage and studio, ideal for performers and fully adaptable for sound designers and producers.
As with all the reface synths, the CS can be battery powered and has integrated stereo speakers. The reface CS is easy to use and has really powerful sounds. It features a polyphonic tone generator with 8 voices and 5 oscillator types (multi saw, pulse, oscillator sync, ring modulation, frequency modulation.) – £254
A dynamic handheld Microphone Behringer, the Ultravoice XM8500 is built to last. With a huge frequency response of 50Hz to 15kHZ, the XM8500 which capture every detail of your vocals or instrument.
Onboard the mic features a cardioid pickup pattern, capturing only the sound from the singer or an instrument, while rejecting off-axis sound. – £16.20
---
The headtune is a clip-on tuner with a unique design that's based on the shape of a guitar, bass, or ukulele headstock. With the headtune attached to the headstock of your instrument, play a single note on the string that you want to tune. – £2.99
The Shure SRH144 Portable Semi-Open Headphones feature extended range audio with enhanced high-frequency response. Light, durable and high quality equal fantastic value. Developed by a brand trusted for music history's greatest moments, the SRH144 Portable Semi-Open Headphones deliver extended range audio with enhanced high-frequency response. – £31
The Shure MV88 MOTIV Digital Microphone is a Stereo Condenser Mic designed to capture high-quality audio using your iPhone, iPod Touch or iPad with Lightning Connection. Simply connect your Shure MV88 Microphone directly to your Apple device to record great audio on-the-go. For flexibility, the MV88 MOTIV features a 90-degree hinge with built-in rotation to allow the mid-side microphone to change position for your convenience. – £129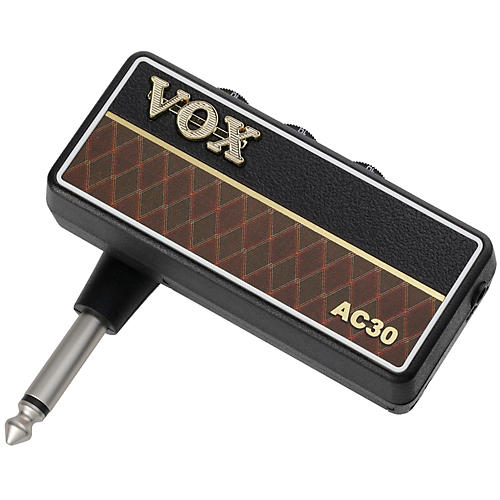 Vox's original amPlug range immediately became an essential piece of guitar gear for any guitar/bass player. Whether jamming home or warming up for a stadium gig you can simply plug the amPlug directly into any guitar, attach a pair of headphones and enjoy solid tone without annoying the neighbours. – £34
Don't forget to check out our full range of Christmas Gifts, Stocking Fillers, Accessories & more over at gak.co.uk!