Top 5 Guitars for Christmas 2017!
Whether you're just playing for fun or a professional, nobody forgets their first Guitar. But with thousands of guitars available ranging from a £100 starter kit to a £5,000 Fender Custom Shop, making a decision on which make and model to purchase can be incredibly daunting.
Get it right and the pleasure of buying this new guitar could lead to a life of fame, fortune and a life of travelling the world as a rock star! Get it wrong and it's more than likely to gather dust in the corner of your spare room for years to come.
We've done the hard work for you! Analysing everything from tone, looks, durability and versatility to create this definitive list of the 5 best guitars for Christmas!

Epiphone Performance Packs are renown for giving fans incredible value in an all-in-one package. And the PRO-1 Les Paul Jr. Performance Pack features one of the most famous guitars in the world, the legendary Les Paul! The PRO-1 Les Paul Junior Performance Pack includes the iconic rock and roll classic Epiphone Les Paul Junior which has all of the PRO-1s innovative features including an EZ-PRO C-shaped Neck, Ultra-Light strings, plus an exclusive Built-In Shadow E-Tuner on the bridge pickup mounting ring.
The Squier Standard Stratocaster is a great playing guitar with a traditional vibe, slick style and modern feel. Player-friendly features like a 22-fret fingerboard and a slimmer neck make for smoother playing and choke-free bends. Alnico single-coil pickups provide plenty of punchy, rocking power.
Featuring a Maple neck with "C"-shaped profile and "large" headstock, 22-fret maple or rosewood fingerboard, Three single-coil Stratocaster pickups with five-way switching, Two-point synchronized tremolo with block saddles.
A surprisingly hip guitar with upgraded contemporary features, this instrument features slick style and a unique sound that's perfectly at home in modern music. Almost infinitely flexible, the pair of Duo-Sonic single-coil pickups in the bridge and neck positions lends a unique character to for everything from bright, jangly arpeggios to heavy chords. Master volume and tone controls, along with a three-way pickup switch, shape the pickups' voice to match the music.
The 24″ scale adds a bit of warmth and thickness to the guitar's inherent tone, while granting a slinkier playing feel, making it easier to perform multi-step bends. Topped by a 9.5″-radius maple fingerboard with 22 medium jumbo frets, the "C"-shaped maple neck is comfortable for all playing styles and ideal for players with smaller hands, or those who use extended chord forms.
The Shergold SM01SD Masquerader 1 is a truly unique, finely designed, and extremely well-equipped instrument. It's versatility, craftsmanship, and keen price make it the perfect guitar for the gigging musician.
Back from the dead, and reborn in 2017; designed in the United Kingdom, Shergold's original birthplace, by master luthier, Patrick James Eggle. The Masquerader encompasses every essence of British Rock 'n' Roll, neatly homaging Shergold's 1970's heritage, whilst taking a long stride forward into the 21st century with boutique stylings, and a modern edge that makes this guitar rival instruments twice its price.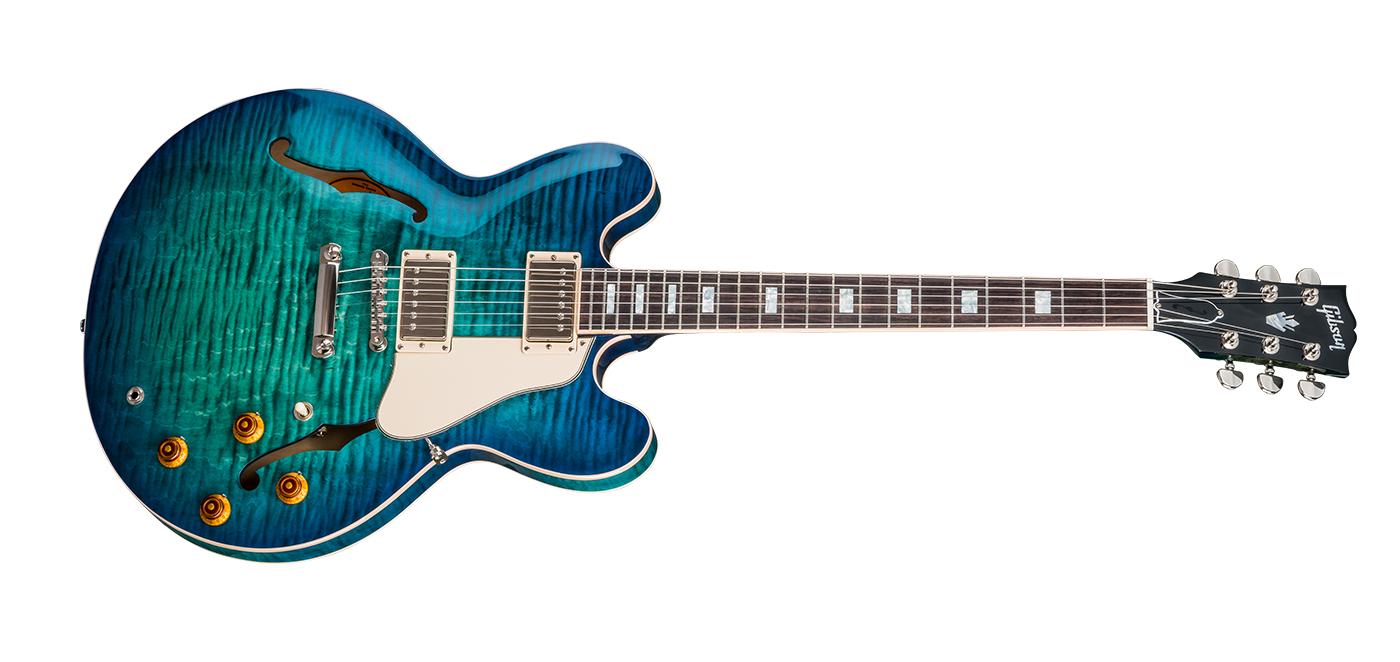 The 2018 Gibson ES-335 Figured is more than top-of-the-line appointments and enhancements, it's a statement! AAA figured Maple veneer and an Aquamarine finish create an impressive visual individuality. High-end appointments like the hand-wired MTC Premiere control assembly with Orange Drop capacitors and 550K matched pots, ABR-1 bridge with titanium saddles, and MHS humbucking pickups ensure that you sound as good as you look.
Don't forget to check out our full range of Christmas Gifts, Stocking Fillers, Accessories & more over at gak.co.uk!