Top 5 Synthesizers For Christmas 2017!
What better to find under your tree on Christmas day than a fabulous little mini synth? Guaranteed to distract you from all the business of preparing food or talking to relatives. Why watch the Queens speech when you could be plugged into some serious synth. Here are our favourite little boxes of noise that'll make your Christmas!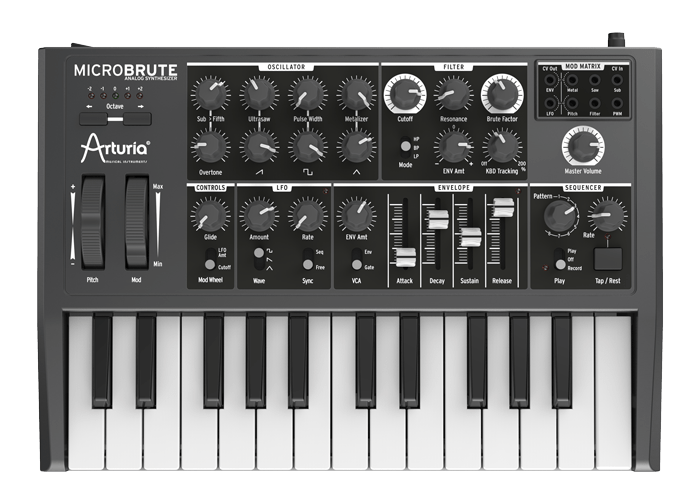 The Arturia Microbrute delivers a fantastic range of sonic possibilities despite its small size. Onboard you will find a single VCO with three waveforms, allowing you to mix and fuse to your hearts content. There is also an overtone generator, a Steiner-Parker filter and the impressive, infamous Arturia Brute Factor.
A Microbrute is a fantastically priced semi-modular mono synth with all the features of a synth at a much higher price point.
---
The Roland JD-Xi is a Stylish, Powerful and Compact Professional Synthesizer equipped with 37 mini keys, Vocal FX and Onboard Sequencer.
As far as pro synths go, the Roland JD-Xi is affordable for the league of synthesizer it's in and the amount of features and useful functions packed into it, some of these features include an Analog synth section which provides authentic lead and bass tones, Two digital synth sections with SuperNATURAL synth tones and 128-voice total polyphony, and A Four-track pattern sequencer and high-quality rhythm sounds. Small in size but massive in sounds, the Roland JD-Xi Crossover Synthesizer would make a great addition to any on-stage or professional studio setup.
---
The Korg Monologue is a fully programmable, 25 key monophonic analog synthesizer for all level players. Featuring a completely new filter, modulation, LFO sculpting abilities that can generate powerful basses and sharp leads – at an incredible price – The Korg monologue encapsulates the spirit of the acclaimed minilogue, with a completely new voice and powerful new features.
Using the foundations of the best selling minilogue that made it so popular, the Monologue shares its sleek layout, knob per function workflow and high quality construction. The step sequencer has also been dramatically expanded, allowing more intuitive and more complex editing. With a lineup that gives you a choice of five eye-catching colours, this compact instrument has a strong personality to match your own.
---
Building on the success of the impressive Sub 37 Tribute Edition, the Subsequent 37 features all the award-winning controls and features of it's predecessor combined with a beautiful new design. The synth features a 37 note keybed, with lightweight keys, swift action and aftertouch.
The brand new sound engine means that you're blessed with richer low end and greater sonic dimension than ever before. There's also increased headroom, greatly enhancing duo mode. There are 256 presets onboard, split between 16 banks of 16 patches.
---
Originally built in the early 70's as Moog's first portable synthesiser, the Model D is finally back in production for the first time since 1981. The Minimoog Model D is a 3-oscillator, monophonic, analogue synthesiser securely housed in a locally-sourced Appalachian hardwood enclosure and hand-finished aluminium chassis.
Although it still contains the original sound engine, it now includes a series of popular functional modifications that expand this legendary instrument's sonic capabilities. These include; Fatar keybed with velocity and after pressure available via top panel CV jacks, a dedicated analogue LFO with triangle and square waveshapes, CV outputs for pitch, gate, velocity and after pressure, basic MIDI integration, and a mixer overload modification.
If you want the legendary Moog sound but with a modern twist, the Minimoog Model D is the synth for you.
Don't forget to check out our full range of Christmas Gifts, Stocking Fillers, Accessories & more over at gak.co.uk!