Moog Grandmother Dark Series Semi-Modular Analog Synthesizer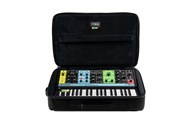 !
Moog Grandmother Series Dark Semi-Modular Analog Synthesizer
The Dark Series Grandmother is a brand new colourway for the best-selling Moog Grandmother synthesizer. This Dark Series version brings you the full, incredible features, specs and sound of the original Grandmother, but in an all-black colour scheme that mirrors the original look of the control panels from Moog's classic modular synths
Protect your Moog Grandmother Dark with the official Moog SR Series Grandmother Case
Moog Grandmother Semi-Modular Analog Synthesizer overview from GAK

The latest release from Synth behemoths Moog is the highly anticipated 'Grandmother' Semi-Modular Analog Synthesizer with a built-in arpeggiator, sequencer and spring reverb tank.

With a module provenance rooted in Moogs catalogue of class-leading synthesizers, the Grandmother is a "Sonic playground" for both seasoned synth vets and curious first-timers. With a focus on experimentation AND playability, the Grandmothers semi-modular design requires no patching and therefore can be played immediately, allowing you to get hands-on straight away, then begin experimentin with and mastering its endlessly reconfigurable front panel.

The Grandmother is a synth inspired outright by classic modular Moogs that came before it, the sound engine, modulation engine and onboard spring reverb are all analog including a user-friendly arpeggiator and sequencer. The Grandmother boasts a powerful modular system with key features based on the Minimoog, CP3, 904, 911, 902 and 905.
Once you wish to delve further into the Grandmother's creative potential, 41 patch points with 21 inputs are available to shape and create your own unique sounds. Running through the audio path the Grandmother has two oscillators with triangle, sawtooth, square and pulse waves available. Each has single bell proactive jacks in whilst number 1 has PWM control in and number 2 has a linear FM control. Both Oscillators have wave outs that are selectable via the wave switch, oscillator number 2 can be synced to number 1 and features an independent frequency tuning knob. The mixer section is based on the revered Moog CP3 modular systems mixer known for its asymmetrical flipping behaviour. Next door is a filter based on the Moog 904A with cutoff, envelop amount and resonance control knobs. The adjacent envelope is based on the 911 envelope, with intuitive attack, decay and release control knobs and a unique sustain fader control. Following that a SECOND keyboard release envelope following the ADSR envelope generator with a VCA based on the modular 902.

The modulation section of the Grandmother features four different waves and a sample hold output, to customise your sound the section features controls for pitch, filter cutoff and pulse width amount. Once your desired sound has been crafted, the mod amount can be controlled via the mod wheel on the superb LHC (left-hand controller) section of the synth.

Every module can be patched out of the Grandmother system and redirected to no another unit such as a Mother or DFAM, the Grandmother therefore makes a strong addition to your Moog or Eurorack modular system.

The arpeggiator/sequencer module is an intuitive user-friendly module that can be used quickly and creatively to create and shape certain patterns of sound. You can record your sequence and store up to three sequences with up to 256 unique notes in each. The sequencer can be clocked from an external source, vica versa or even a separate source within the synth. The recording is easy and allows you to apply your ideas and begin modifying immediately to create something truly unique.

The built-in spring reverb based on the 905 works superbly to add depth and mood to your sounds, found on the far right end of the synth it has an intuitive and highly accurate control knob that can be easily and quickly used to apply reverb your sound.

The Moog Grandmother is meticulously handcrafted in Moog Music's factory in Asheville North Carolina, every component expertly fitted, thoroughly tested and finessed. The Grandmother continues Moog's spotless lineage of powerful and unique synthesizers, with the Grandmothers semi-modular design making it ideal for immediate play and truly leftfield sound exploration.
TYPE: Semi-Modular Analog Synthesizer
SOUND ENGINE: Analog
NUMBER OF KEYS: 32 Full-Size Keys
TYPE OF KEYS: Velocity-sensing (Velocity signal is not hard-wired – available via MIDI and KBD VEL OUT jack)
OTHER CONTROLLERS: Pitch Bend, Mod Wheel, Variable Glide
POLYPHONY: Monophonic
SOUND SOURCES: 2 Oscillators with selectable Waveforms (Oscillator 2 supports Sync to Oscillator 1 plus linear FM), 1 White Noise Generator, External Input jack
VCF FILTER (LOW PASS): -24dB/Octave Moog Ladder Filter with Resonance (Self-Oscillating)
STATIC FILTER (HIGH PASS): -6dB/Octave
MOD SOURCES: Modulation Oscillator (Sine, Sawtooth, Ramp, Square), S/H Output, plus Envelope and Key Tracking
ENVELOPE: Four-Stage (ADSR)
ATTENUATOR: Bipolar
MULT: Four Parallel-wired Non-buffered Patch Points
EFFECTS: Spring Reverb
ARPEGGIATOR / STEP SEQUENCER: (256 Steps; three Sequence Files)
PATCH POINTS: 41 x 3.5mm front and rear panels, 21 Inputs, 16 Outputs, 4 Parallel-wired Mults.
AUDIO INPUT: One 1/4" TS jack (Rear Panel)
AUDIO OUTPUT: One 1/4" TRS jack for headphones or line level output (Rear Panel)
MIDI I/O: 5-pin DIN In, Out, Thru; plus MIDI over USB (Rear Panel)
DIMENSIONS: 23" (54.82cm) Wide x 14 1/4" (36.19cm) Deep x 5 1/2" (13.97cm) High
POWER: Included Power Adapter 12V DC (positive tip), 2A, 100 to 240 Volts AC, 50/60Hz
WEIGHT: 16lbs. / 7.25kg