Akai Professional Force Music Production Performance System
Akai Force, Music Production and DJ Performance System
Production/DJ Performance System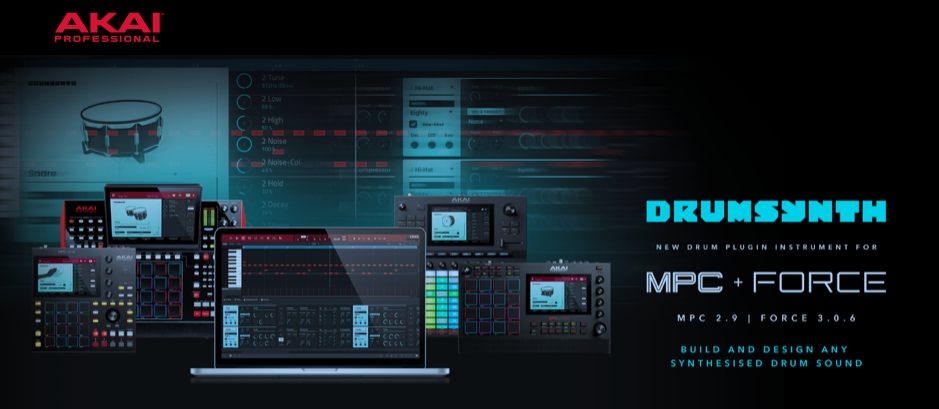 Akai Pro updated FORCE groovebox to firmware 3.0.5 and introduces the long-awaited Arranger Mode, Ableton Live integration & more
3.0.5 Firmware update features
Arranger mode Welcome to a new era in FORCE with the premiere of the Arranger. Impromptu jams and song sketches can now be finalised into completed compositions with fast and simple recording of your clips. Navigate quickly with the effortless graphical user interface menus that make quick editing and revising possible with just a few gestures on the touch screen. Not sure of the arrangement you've recorded? Launch clips against your linear arrangement until you've assembled the perfect piece. When your song is exactly how you want it, export it to a final stereo master featuring processing from the onboard effects or as separate audio tracks.
MIDI Multi FORCE is a formidable performer complete with CV/Gate, MIDI Din and USB 3.0 ports. Now with MIDI Multi, enjoy unprecedented control of MIDI tracks. Users have independent control of MIDI tracks for up to 32 devices via USB. Connect your class-compliant USB MIDI hub and immediately access your favourite synths, modules, MIDI-based effects and so much more. Easily modify MIDI device names, layer MIDI tracks and set device behaviour with Track and Master settings. Whether in the studio or on the stage, even the most complex setups can be achieved with versatile routing and efficient labelling and categorising.
Refined Workflow, Increased Performance The key to unleashing your greatest creative potential lies in an uninhibited process. New features and workflows on FORCE bring users one step closer to having no boundaries between their creative mind and this musical tool. Simultaneously control multiple parameters with custom knob assignments to accurately dial in effects, processing, or automation. Enjoy advanced 16-level functionality for pad performance dynamics for any style. Enhance your pad performances with real-time control of modulation, pitch bend, and more. Create and save your custom effects racks, load to a track, and control with macro knobs and visual feedback. More power right at the fingertips, giving users unprecedented creative control.
Ableton Live Integration FORCE comes pre-mapped to control Ableton Live wirelessly or via an ethernet cable using Ableton Link. Enjoy the seamless flexibility to instantly switch FORCE between standalone operation and Live Control mode without ever stopping playback from either ecosystem. For the ultimate standalone experience, you can now bring your Ableton projects into FORCE for a workflow completely free of computer tethering using the new Ableton Live Project Import function.

Redefine your expectations. Force blurs the lines between contemporary music production solutions and next-generation DJ performance technology, setting the precedence for a new industry standard. Fusing clip-launching, step sequencing, sampling, synth engines and tactile touch screen control into a standalone, performance-driven device, Force combines must-have modern functionality with an ultra- intuitive work ow that harnesses your creativity for maximum expressive capability.

Multi-Touch Display The heart of your Force experience. Launch Clips, browse your sounds, edit MIDI data, manipulate samples, apply XYFX, sculpt synth sounds and much more all from Force's 7-inch full colour capacitive multi-touch display.

Matrix Tactile control for an unrestricted creative flow. Trigger scenes/clips, step sequence, finger drum in MPC 16 Pad Mode and play note data with an expandable 8x8 clip launch matrix with radiant RGB backlighting.

Control Discover new ways to enhance your performance via 360-degree rotary encoders with OLED feedback – smart assignments and multiple modes provide immediate real-time access to all core controls or link to any assignable parameter for a truly customised experience. Capture and playback any changes with real-time FX automation.

Command Experience total control of your performance. Navigate your project, control clip/scene playback and access critical mix control (mute/solo/cue) right from the hardware with Force's ergonomically-positioned controls.
Standalone – no computer required
8x8 clip launch matrix with RGB LEDs
7" full colour capacitive multitouch display
Mic/instrument/line inputs, 4 outputs
MIDI In/Out/Thru
4 configurable CV/Gate outputs
Remix, mash-up, DJ and produce with 6 track types for complete audio/MIDI/CV sequencing and
performance capability
Performance Modes including 16-Pad Drums, Notes, Smart Scales, Chords & Progressions
MPC Sample Editing
Automatic BPM detection, real-time time-stretching and pitch-shifting
8 touch-sensitive knobs with graphical OLED displays
4 powerful, fully-editable synth engines
16GB of on-board storage (over 10GB of sound content included)
Full-Size SD card slot & 2 USB 3.0 slots for thumb drives or MIDI controllers
User-expandable 2.5" SATA drive connector (SSD or HDD)
Pads (64) velocity- and pressure-sensitive pads, RGB-backlit
Knobs (8) 360° touch-sensitive knobs (1) 360° encoder for display navigation and selection via push (5) 270° knobs for gain, mix & level adjustment
Buttons (56) dedicated function buttons; red-, amber-, or green-backlit
Display 6.9"/176mm (diagonal) 5.9" x 3.7"/150 x 93mm (width x height) Full-colour LED-backlit display with touch interface
2) XLR+1/4" (6.35mm) TRS inputs (Input 1/2) (4) 1/4" (6.35mm) TRS outputs (2 stereo pairs) (1) 1/4" (6.35mm) stereo headphone output (1) 1/8" (3.5mm) MIDI input
(1) 1/8" (3.5mm) MIDI output
(1) 1/8" (3.5mm) MIDI thru port (4) 1/8" (3.5mm) CV/Gate outputs (1) Ethernet link port
(2) USB Type-A ports
(1) USB Type-B port
(1) SD card slot
(1) power adapter input
Power via power adapter: 19V, 3.42A, centre-positive, included
Dimensions 13.8" x 15.3" x 2.85" 350 x 389 x 72.5mm
Weight 8.53 lbs. 3.87kg
Customer reviews
out of 5
Leo Elstob

22/8/2021

great service

James Deze Butters

04/11/2020

Better than my machine MK3. Firmware 3.0.5 made all the difference with the arranger, still room for improvements and little big fixes,look forward to more updates.

Martin Barras

10/6/2020

Good product, a few minor flaws with the software that hopefully will be addressed in an update but still fun all the same.

Rosemary Amesbury

01/9/2019

Excellent!

Corey Mcindoe

07/4/2019

Loving it so far! I'm still learning all of it's functions but it's quick, intuitive, and very well built. It complements my workflow perfectly.
Load more reviews