Alesis Strike Multi Pad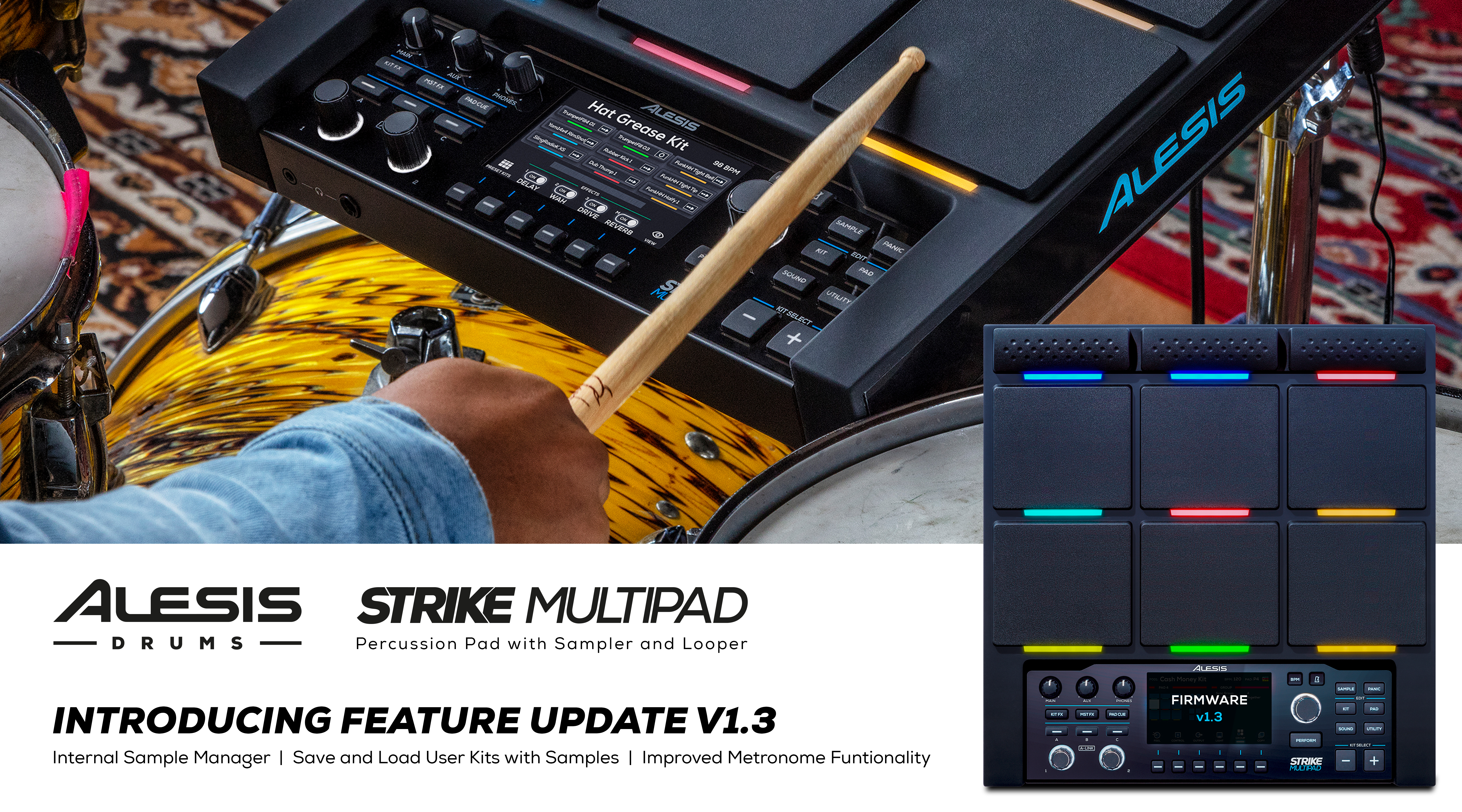 9-Trigger Percussion Pad with RGB Backlighting, Sampler, Looper, On-Board 2-In/2-Out Soundcard, Sample loading via USB Thumb Drives and Radiant 4.3-Inch Display.
The Strike Legacy First the amazing Alesis Strike and Strike Pro electronic drum kits did what no electronic kits had ever done before—they delivered an authentic drumming experience with all the responsiveness and tonal realism of your favourite acoustic drums, but also with the versatility and creative possibilities that only the very best electronic drums can deliver. The percussion universe would never be the same. Now the universe of electronic percussion pads has been rocked with a seismic shift that is off the scale: Here is the Strike MultiPad from Alesis. The first percussion pad incredible enough to earn the Strike name. A percussion pad like no other. Time to throw out your pre-conceived notions. It's time to unlock your imagination.
Sample. Edit. Loop. Perform. SAMPLE anything you want—any sound, any effect, from anywhere. Use your mic, your phone, your computer, USB input or another audio device to capture live or pre-recorded samples, even off the internet. We even include 6GB+ of premium in-demand content to get you going.
EDIT your samples and loops with the radiant 4.3-inch colour screen, easy-to-use selectors & encoders, A-Link controls and the five built-in effects processors - tweak, shade, colour, EQ and compress to your heart's content. Your sounds will really be your sounds, and no one else's.
LOOP-based recording of your pad performance is a snap, either from the samples you created, or from an external input. Either way, with Strike MultiPad looping can be seamlessly integrated into your playing.
PERFORM better, faster, with more creativity and with more content, versatility and capability than any other drum pad anywhere. With nine velocity-sensitive pads, outfitted with customisable RGB lighting that display velocity, loop length and more, you can be certain you never miss a beat – no matter how dark or foggy the stage is.
The Centrepiece of Your Performance The Strike MultiPad effortlessly integrates into your existing setup thanks to its arsenal of inputs and outputs – no matter what your next performance demands. Route your metronome or any sound independently to (4) TRS ¼" audio outputs, (1) ¼" TRS Headphone output or (1) 1/8" TRS Headphone output. Control and connect your peripheral MIDI-compatible equipment with the 5-pin MIDI in and out ports. Connect source audio to (2) ¼" TRS Audio inputs for limitless sampling potential. Expand your performance with additional trigger inputs – (1) single zone and (2) dual zone, plus TRS HH and foot switch inputs. The Alesis Strike MultiPad has your performance covered.
Production Powerhouse Strike MultiPad seamlessly transitions from a stage essential to a studio-centric goliath thanks to an on-board 2-in/2-out audio interface and premium software suite for immediate out-of-the-box potential. Ableton Live Lite is a revolutionary, multi-award-winning music production solution that lets you spontaneously compose, record, remix, improvise and edit your musical ideas in a seamless audio/ MIDI environment. Ableton Live Lite brings your acoustic, electronic and virtual instruments—as well as your digital audio recordings and MIDI sequences—together in a single interface with unparalleled ease of use.
Alternatively, experience the production powerhouse that is ProTools | First - a complete DAW based on the same music creation and audio production tools that award-winning artists, musicians, producers, engineers, and mixers rely on every day.
What's New in 1.2? With feature update v1.2, the Alesis Strike MultiPad lengthens its lead over all other electronic multipads with the following enhancements: • Set lists - Users can now save and arrange custom Setlists comprising any Preset or User Kits. Set lists can be edited from the Kit Menu by pressing F6-Setlist. • Improved Kit Navigation and Loading Times - Users can now use the Main Encoder to browse kits without loading them in the Perform and Kit menus. • Hi-Hat Playback Mode - Assign open and closed sounds to a single pad for quick and easy hi-hat pedal setup. • Footswitch Playback Mode - Switch between Wave A and Wave B of a pad with the click of a footswitch. • Quick Wave Copy - In the Sound menu, press and hold the F1-Wave button to copy a sound from one wave to the other.
Over 7,000 samples and loops - 32GB of storage with over 6GB of content, including loops, drums
and percussion, plus melodic instruments for any style
• Sample - Built-in Sampler lets you record from USB, smartphone, microphone, or other audio
device
• Built-in looper - Loop-based recording of your pad performance or from the external audio input
• Perform - 9 velocity-sensitive pads with customisable RGB lights
• Meet Your New Soundcard - 2 input/2 output USB audio and MIDI interface
• Load Samples via USB Drive - Import WAV files and backup your kits
• 5 Built-in Effects Processors - 3 Kit Effects, 1 Master Effect, Compressor, and Equalizer
• Custom Effect Control - Freely map two Alesis "A-LINK" infinite rotary knobs to dozens of effects
and mixing controls
• Easy Audio Routing - Route the metronome or any sound to separate audio outputs
• Supersize Your Pad - Expand with external trigger and pedal inputs: (3) external drum/cymbal
triggers, a hi-hat pedal, and (2) dual foot controls
• Never Miss a Beat - 4.3" display provides an informative overview of your kit, and makes editing fast
• Premium Software Suite Included - Includes Ableton Live Lite and Avid Pro Tools First
Over 7,000 samples and loops - 32GB of storage with over 6GB of content, including loops, drums
and percussion, plus melodic instruments for any style
• Sample - Built-in Sampler lets you record from USB, smartphone, microphone, or other audio
device
• Built-in looper - Loop-based recording of your pad performance or from the external audio input
• Perform - 9 velocity-sensitive pads with customisable RGB lights
• Meet Your New Soundcard - 2 input/2 output USB audio and MIDI interface
• Load Samples via USB Drive - Import WAV files and backup your kits
• 5 Built-in Effects Processors - 3 Kit Effects, 1 Master Effect, Compressor, and Equalizer
• Custom Effect Control - Freely map two Alesis "A-LINK" infinite rotary knobs to dozens of effects
and mixing controls
• Easy Audio Routing - Route the metronome or any sound to separate audio outputs
• Supersize Your Pad - Expand with external trigger and pedal inputs: (3) external drum/cymbal
triggers, a hi-hat pedal, and (2) dual foot controls
• Never Miss a Beat - 4.3" display provides an informative overview of your kit, and makes editing fast
• Premium Software Suite Included - Includes Ableton Live Lite and Avid Pro Tools First
Connectors
(4) 1/4" (6.35 mm) TRS audio outputs
(1) 1/4" (6.35 mm) TRS headphone output
(1) 1/8" (3.5 mm) TRS headphone output
(1) MIDI DIN Output/Thru-port
(2) 1/4" (6.35 mm) TRS audio inputs
(1) 1/4" (6.35 mm) TS trigger input
(2) 1/4" (6.35 mm) TRS trigger inputs
(1) 1/4" (6.35 mm) TRS HH pedal input
(2) 1/4" (6.35 mm) TRS footswitch inputs
(1) MIDI DIN Input
(1) USB Type-B port
(1) USB Type-A port
(1) power adapter input
USB Drive Supported Format: FAT32 Supported File Type: 16-bit, mono or stereo .WAV files, 44.1 KHz Sample Rate
Power Adapter: 9 VDC, 1,500 mA Voltage: 100–240 V, 50/60 Hz, 1.5 A Max
Dimensions: (width x depth x height) 13.75" x 14" x 3" 349.25 x 355.6 x 76.2 mm
Weight: 8.5 lbs. 3.85 kg
Customer reviews
out of 5
KEVIN MCHENRY

10/6/2021

Wonderful piece of Kit. It has a vast amount of options for the various pads and sounds. However the online manual is scant at best, It tells you all of the programing functions available, but it doesn't give you any examples. Alesis has produced some tutorial videos that can be found on their website or you-tube. The recent firmware update is at V1.3 and installation is very easy, just remembering that you must have a USB which is formatted to FAT32.

Mark W

14/4/2020

Excellent bit of kit!! Very addictive, and like a previous reviewer said that is good to get one of these during lockdown to master this multi pad!

Mr Eley

24/3/2020

Still getting to grips with it but great build quality and loving some of the sampling and looping features. Great piece of kit to play with during the covid 19 lock down
Load more reviews