DW 9000 Series Single Pedal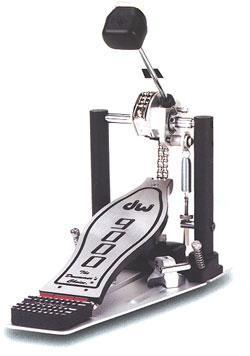 In Stock
Next day delivery

The DW 9000 Series Single Pedal's patented features like the free-floating rotor-drive system, rotating swivel spring and infinitely adjustable cam, are aligned to create a more direct transfer of energy that optimizes the stroke for more power and precision.

DW 9000 Series Pedals feature an infinite adjustable cam, allowing the pedal to be easily set from Accelerator to Turbo Drive or anywhere in between.

The Free-Floating Rotor drive system allows the shaft to turn independently of the rotor, directing energy from the pedal board straight to the beater. The design also uses friction-reducing ball bearings to optimize the already incredibly smooth, gravity-defying action.

Call GAK now for product info, advice and the Best Prices - 01273 665400
The patented Floating Swivel Spring increases efficiency on the down stroke and return stroke, creating less resistance and an incredibly smooth feel.
9000 Series Bass Drum Pedals include a Nylon Strap and can be easily converted from Chain-Drive to Nylon Strap.
State-of-the-art Ball Bearing Hinge design
Dual Adjustable Toe Clamp
9000 Single Pedals come with an easy-travel, soft nylon bag (not shown).