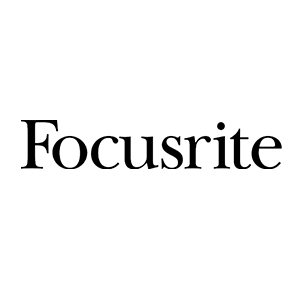 Focusrite Scarlett Series
We simply cannot recommend Focusrite's Scarlett series of USB Audio interfaces highly enough. It's easily one of our best selling product ranges and with good reason. The Scarletts are a winning combination of premium features and an attainable price - now anyone can access studio-quality recordings in their home studio and thanks to Scarlett's portable form factor, anywhere else you take it!
It doesn't matter if you're a complete rookie or a seasoned studio veteran, the Scarlett series won't disappoint due to its exceptional design and ease of use. With the 3rd-generation of Scarletts, Focusrite has come up with a way to make it easy for recording novices to get their interface up and running - the Easy Start tool. When you initially plug a Scarlett interface into your computer, it will appear as a device that can be mounted as a drive. After you've done that, you can click on a link that will direct you to some helpful guides that show you how to install the drivers and the accompanying free software.
The Range:
The software bundle includes: Ableton Live Lite, Pro Tools First Focusrite Creative Pack and a free 3-month trial of Splice Sounds.
Whilst the budget-friendly USB interface market is a highly competitive one, the third-generation of Scarlett's improvements make it stand out. The second-generation made some significant improvements to Scarlett's software, including advanced round-trip latency performance (for newbies, latency is the time it takes for your computer to process audio and send it back out again - the lower the latency the better!). What the third-generation brings to the table is improvements to Scarlett's hardware, with specific interfaces getting an upgrade as well as enhancements across the entire range.
From the third-gen, Scarlett inputs boast the famous Air feature (previously only found on the premium Clarett and Red series) - which invokes the magical sound of Focusrite's transformer-based ISA preamps by imbuing your vocal and instrument signal with textured high-end detail.
The signature "gain halos" that surround the knobs let you know how hot the signal level is by glowing a different colour depending on the amplitude of the incoming signal. They let you know when there's clipping or unwanted distortion. Previously the gain halo colours weren't customisable - only traffic light colours - but now you can choose from seven different colours for each meter state.
USB-C connectivity equals faster data transfer and ultra-low latency, meaning you can record and monitor in real-time. The connection can be flipped, so you don't need to plug it in upside-down.
The Scarlett microphone preamps were already known for their warm tone and eminently responsive nature, with the third-gen they've been levelled-up with an additional 6db of gain range (giving quieter signals a boost if needed), an increased dynamic range (109dB to 111dB) and decreased harmonic distortion (resulting in cleaner recordings) on the analogue inputs.
A huge benefit of the Scarlett is its assortment of different input and out configurations which ensure virtually all recording needs and catered for! All six of the interfaces in the series have had an update to their I/O, making them even better value than before.
If you're in the market for an affordable yet astonishingly high-quality USB interface, anything in Focusrite's Scarlett range will be a great addition to your home studio. Whether you're a songwriter that would benefit from the compact input configuration of the Solo, a project studio owner that needs the multi-tracking capabilities of the 18i20 or anything in-between - there'll be something for you.
In the unlikely event your interface lets you down, all brand new Scarletts come with a three-year warranty from Focusrite and their support team is friendly and knowledgeable.
If you're looking for even greater fidelity and nuance from your preamps, you can upgrade to Focusrite's Clarett range of audio interfaces. The 2Pre, 4Pre, 8Pre and OctoPre feature the Clarett preamp - which boast a stunning level of sonic fidelity and class-leading 118dB of dynamic range.