Marshall 1936 150W 2x12 Cab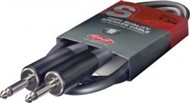 £5.88!
Click 'add to basket' to see 1 add-on deal!
The Marshall 1936 2x12 Cabinet has 2 12" Celestion G12T75 speakers to handle 150W. Its size makes it the perfect match for full-sized Marshall heads and it offers mono or stereo option (eight ohms mono; sixteen ohms stereo).
Marshall constructs the 1936 Speaker Cabinet with locking joints for sturdy reliability and great tone; smooth ABS plastic corners; and heavy-duty, ergonomically recessed grab handles.

Call GAK now for Marshall info, advice and the Best Prices - 01273 665400
Speaker Type: G12T-75
Speaker Configuration: 2 x 12"
Power (RMS): 150 Watt
Selectable Mono/Stereo
Impedance (Mono): 8 Ohm
Impedance (Stereo): 16 Ohm
Dimensions (mm): 740 x 598 x 305
Weight (kg): 24.6