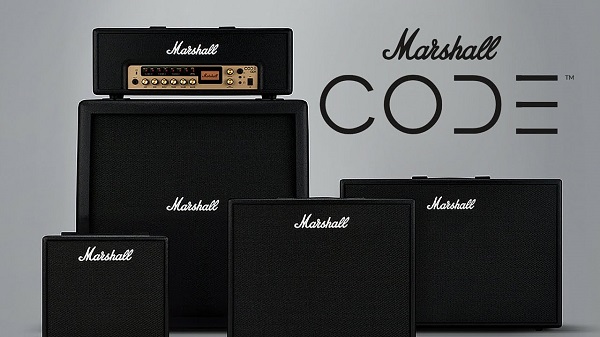 Marshall CODE Series
Digital Guitar Amplifiers that give you access to the most acclaimed tones from one of the biggest amp manufacturers in the world, Marshall.
Specifically designed for the guitar player that demands versatility and classic tones, Marshall CODE are a series of Digital Amplifiers that offer just that.
Designed in collaboration with audio software experts, Softube, the pair have put their immensely experienced brains together and created an affordable amp range with component-level modelling of some of the most iconic amps throughout history.
Available in Four Variations:
Each Marshall Code amplifier comes with 14 modelled preamps, 4 power amps, 8 speaker cabinets, 24 built-in effects (5 of which can be used at once) and all settings can be stored across 100+ presets.
Iconic Amp Sounds
The 14 MST preamp models within the CODE range perfectly recreate the tonal and sonic characteristics of some of the most successful and respected Marshalls amps from the past fifty-plus years:
JTM45™ - The very first Marshall Amplifier. An English-made 30 Watt, two-channel amplifier, that revolutionised the sound of rock and blues music forever. The JTM45 is still made today as part of the Vintage Re-Issue™ Series and Handwired™ Series.
1962 Bluesbreaker™ - Marshall's first-ever combo. Two 12" speakers ran at 30 Watts. Famously used by Eric Clapton on the influential blues album 'John Mayall's Bluesbreakers' in 1966, which is how it earned it's 'Bluesbreaker' nickname. The 1962 Bluesbreaker is still made today as part of the Vintage Re-Issue Series™ and Handwired™ Series.

1959™ Plexi™ - The holy grail of rock tone. 100 Watt Super Lead heads were "non-master-volume". When dimed, the valves are beautifully overdriven, producing highly responsive and harmonically rich tones. The 1959 amplifier is still made today as part of the Vintage Re-Issue Series™ and Handwired™ Series.

JCM800 2203™ - A straightforward single-channel amplifier that dominated the '80s heavy metal scene. Its popularity remained well into the '90s, where its tone pioneered Grunge and Britpop. This amp set the benchmark for all metal amps that followed.

JCM2555™ Silver Jubilee™ - Based on the JCM800 2203 and 2204™ Master Volume models, the Silver Jubilee had a special preamp circuit which three gain 'modes'; Clean, Rhythm Clip and a switchable Lead Channel. 2555 was the 100 Watt head in the Jubilee series and was a limited edition.

JCM2000™ DSL100™ - The JCM2000 Dual Super Lead's 'dual-mode' design meant that guitarists could choose either a Clean or Crunch tone from the Classic Gain Channel, whilst the Ultra Gain Channel provided two lead sounds: Lead 1 & Lead 2. This tonal versatility was aided by the Deep and Tone Shift features. The JCM2000 DSL100's tonal range and versatility made it massively popular throughout the early '90s/'00s. Its legacy lives on in the current DSL Series.

JVM410H™ - 100 Watt head "all-valve" tonal monster that has four channels, each with three modes: Green, Orange and Red offering guitarists a range of 12 unique tones. Each mode reconfigures the channel gain stages in order to develop different amounts of gain and tone. The JVM410H's vast tonal spectrum makes it the most versatile amplifier Marshall has ever made, used by many professional players.
Preamp Models:
| Clean | Crunch | Overdrive | Natural | Gate |
| --- | --- | --- | --- | --- |
| JTM45™ - JTM45 2245 on a clean setting | Bluesbreaker™ - 1962 Bluesbreaker combo overdriven | OD JVM - JVM410H on OD1 Channel in Red Mode | The Natural preamp is designed to be used with external FX without the tonal colour of an MST modelled preamp. It provides EQ for tonal shaping and access to the Gate. | If the noise Gate is applied, when your sound level drops below the set threshold it will activate, preventing any signal below that threshold from passing through. It progressively attenuates the guitar signal, following its dynamics, to suppress unwanted noise. |
| CL DSL - DSL100H on the Classic Gain Channel, Clean setting | Plexi™ - 1959SLP Overdriven | OD DSL - JCM2000 DSL Lead 2 Channel | | |
| CL American - Classic American pure-valve sound | CR American - Classic American valve overdrive | OD American - Classic American higher gain overdrive | | |
| CL JVM - JVM410H on the Clean Channel in Green Mode | JCM800™ - JCM800 2203 overdriven (high sensitivity input) | OD Silver Jubilee - JCM2555 Silver Jubilee Lead Channel | | |
| Acoustic Simulator - Simulates the sound of an electro-acoustic guitar | '50s British - Classic British valve combo overdrive | | | |
Faithfully Recreated Poweramps
MST modelling allows each poweramp within the CODE range to recreate four classic and vintage valve power output topologies. A valve power stage is a vital part of an all-valve amplifier's sound and its tonal character, meaning CODE gives you the quintessential Marshall amp tone. Mix and match your these poweramps with your favourite preamps and cabinet configurations to find your own voice.
The Most Famous Speaker Cabinet Setups - Built-In
Marshall speaker cabinets could perhaps be just as famous as their amplifiers. The iconic 4 x 12" design has hardly changed from the original Jim Marshall design and has become the yardstick for all other speaker cabinets. MST modelling recreates the sonic characteristics of eight classic Marshall speaker cabinets, including a variety of 4 x 12", 2 x 12" & 1 x 12" speaker configurations. Each Marshall speaker cabinet differs not only in their speaker configurations but in which speakers that they use, how they are wired and the size of the cabinet. By having 8 speaker cabinet variations, the Marshall CODE are the perfect platform to build your dream Marshall rig.
Cabinet Types:
| 4x12" Cabinet Style | 12" Combo Style |
| --- | --- |
| 1960 - Classic 4 x 12" Celestion G12-T75 speakers | 1936 - Classic 2 x 12" Celestion G12-T75 speakers |
| 1960V - 4 x 12" with Celestion 'Vintage 30' speakers | 1936V - 2 x 12" with Celestion 'Vintage 30' speakers |
| 1960AX - 4 x 12" with Celestion G12M-25 speakers | 1912 - Classic 1 x 12" Celestion G12-B150 speakers |
| 1960HW - 4 x 12" with Celestion G12H-30 speakers | 1974CX - 1 x 12" Handwired with G12M-20 speaker |
Huge Array of Effects
24 different built-in effects, 5 of which can be used simultaneously per preset.
If the vast offering of Marshall amp tones and customisable options weren't enough, CODE comes with 24 different effects, ranging from Auto Wah, Pitch Shifter, Chorus, Flanger, Phaser, Tremolo and numerous Delay/Reverb types. The detailed settings of these, as well as all the amp settings, can be edited in the Marshall Gateway app.
Packed With Intuitive Technology
Designed to give you the ultimate control over your sound, CODE™ wirelessly connects to the Marshall Gateway app so you can create, edit and share sounds.
Marshall Gateway
Take control of your Marshall CODE with your Smart Device and unleash a whole new world of connectivity. Available for iOS or Android devices, Gateway enables CODE users to wirelessly control and view the settings of your amplifier via Bluetooth® including Bass, Middle, Treble, Gain and Volume settings, as well as activate and deactivate CODE's Section Switches. You can also use Gateway to manage your CODE's 100 user-editable Presets, manipulate settings and store your personalised Presets straight to CODE's onboard memory. You can even store a further one hundred Presets on the Gateway Library, then share them with other CODE users!
Use Gateway to wirelessly stream the audio from your Smart Device through CODE's speaker(s) and jam along with your favourite tracks. The Marshall Gateway App is available now from iTunes or Google Play.
MyMarshall - Create a MyMarshall account to access hundreds of additional presets and keep on top of continued software updates to keep getting the most from your Marshall CODE.
For maximum control of your Marshall Code, pair with the PEDL-91010 Footswitch (sold separately).
<< Shop The Marshall CODE Range Below >>