Meinl MCS Complete Cymbal Set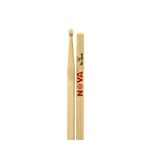 £5.99!
Meinl Product Overview
When what you want from your first set of cymbals are cool looks and cutting tones that sound great but won't break your bank account, MCS is a perfect choice. Precision crafted from pro-level bronze, these cymbals give you the cut you need to get your playing heard.
Best of all, they let you add serious sounds to your set-up without a serious price tag.
The MCS COMPLETE CYMBAL SET-UP contains:
14" Medium Hihat
16" Medium Crash
20" Medium Ride
Styles: Rock, Pop
Timbre: Bright
Character: Powerful, Full-bodied
Pitch: High
Volume: Medium
Sustain: Medium
Weight: Medium
Finish: Traditional
Material: B8
Lathe: Wide Blade
SKU: MCS