What, When and where is Winter NAMM 2019?
Winter NAMM 2019 is the ultimate showcase event for new releases in the instrument world, where over 7,000 brands exhibit prototypes and new releases for the first time. GAK will be bringing you the news as it happens, so keep an eye on this page regularly to keep up-to-date with all the latest releases!
Here's what we know so far, Choose a category below!





---

Here are a few of our NAMM 2019 Favourites so far!
Ibanez releases an awesome NEW range of Hollow Body Guitars!
Say hello to the fabulous new Ibanez 2019 hollow-body series that's perfect for playing Jazz or traditional Blues music. With Features such as Bound Laurel Fretboards, Flame Maple Tops/Linden back & sides, Classic Elite, Infinity R & Super 58 Pickups, Bigsby Tailpiece and lots more! These series exude's sheer class from the moment you take it out of the box. Not only that but it's available at a stunningly low price for the quality you're getting!
---
Shure MV88+ MOTIV Video Kit - Awesome Audio On Mobile
Premium digital stereo condenser microphone for mobile high-fidelity video and audio recording. For astonishing audio, anywhere.
The MV88+ Video Kit is your mobile professional recording rig. Package includes Manfrotto PIXI Tripod, phone clamp & shoe-mount mic clip, USB-C & lightning cables, making it ready for audio and/or video capture right out of the box. The free ShurePlus MOTIV audio & video Apps enable recording control, and the ability to save and share your content in multiple formats.
Audient Sono Amp Modelling Audio Interface - The Ultimate Audio Interface For Guitarists
The first audio interface for guitarists, combining an ultimate valve preamp and 3-band tone control with the renowned Two notes power amp and cab simulation - giving you a wide variety of tonal options from the start. Play, record and perform with your own custom tones whether you're recording, practicing or gigging.
---
Korg Volca Drum Synth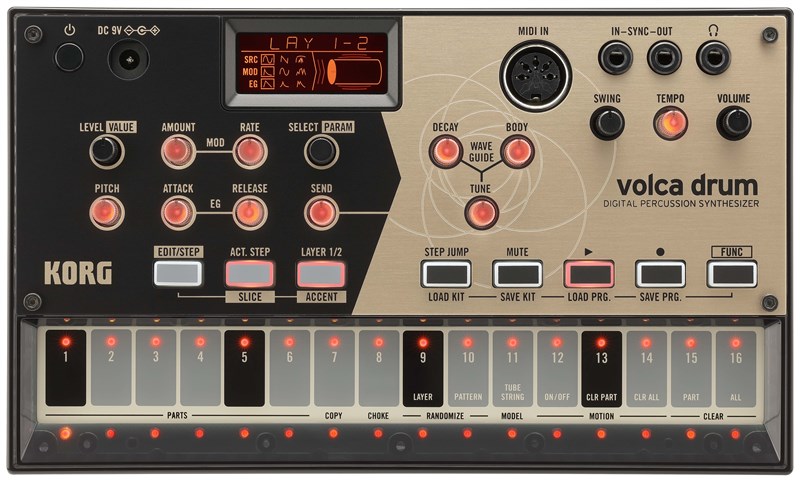 Based on a simple trigger waveform, wave folder and overdrive are used to add overtones and distortion, and then a waveguide resonator effect brings the sound to life. The six-part DSP synth engine was designed with a completely different philosophy than conventional drum machines, and generates a wide range of unexpectedly different sounds. And of course, you can play those sounds from the volca-style sequencer.
---
The Latest NAMM 2019 Releases!