Roland TD-1 Series
The entry-level range of Roland TD-Series kit from their V-Drums range. Ideal for beginners, learners or those that need a drum kit with a smaller footprint.
The Roland TD-1 is the first Series in the V-Drums Range with 3 versions to best suit your needs. Each kit offers a different pad/rack configuration, meaning no matter your budget, standard of playing or space requirements, there is a TD-1 Series V-Drums kit for you.
---
The Range:
TD-1KPX2 - Roland's most portable and transportable V-Drums Kit
TD-1DMK - The Best-Selling Electronic Drum Kit on the market
TD-1K - The introductory kit to the entire V-Drums range
Each Roland TD-1 Series V-Drums Kit comes with a 2-year warranty.
---
Three Great Kits, One Powerful Module
---
Whichever version of TD-1 you opt for, each Kit is powered by the TD-1 Module. The TD-1 "brain" is packed full of features, including great sounds, teaching aids and many more useful specs.
The TD-1 Module features 15 different drum kits, ranging from acoustic kits for Rock, Jazz, Pop and Metal, percussive kits for Latin, Oriental or Folk music and it even has Electronic sounds, like the 808, 909 and other famous Drum Machines.
The Kits:
Standard - The classic Maple Acoustic Drum Kit, set up in a drum room.
Rock - Anthemic and huge, with a sound that fills an arena.
Funk - Tight, focused and warm. Perfect to get your groove on.
Jazz - Open, sensitive and vibing tone, making you feel like you're in the smokiest of Jazz Clubs.
House - The sounds of the TR-909 Drum Machine, the creator of House Music.
Fiber - Delicate and subtle, making it sound like you're playing with brushes.
Light - Shallow short-stack toms, with a tight Piccolo Snare.
Coated - Warm, deep and vintage sounding drums.
Heavy - Loud and proud for those that love Metal.
Acoustic - An alternative to the Standard kit, with a snare drum with a metal shell and Birch Drums.
Drum'nBass - Processed and heavily produced for D'N'B and Jungle music.
TR-808 - The sounds of Roland's most famous Drum Machine, which pioneer Rap and Hip Hop music.
Electronic - Classic Electronic Drum Machine sounds for fans of 80s Pop!
Reggae - Tight snare, highly tuned with timbales for playing the One-Drop.
Percussion - A collection of World Percussion sounds including Congas, Bongos and more.
Each kit sound is beautifully dynamic and expressive, meaning you can buzz roll, cymbal swell, choke the cymbal pads and splash the hi-hat pedal, which are essential drumming techniques for Beginner, Intermediate or Advanced level, drummers. It will also react like an Acoustic Drum Kit when playing lightly to the hardest of hits, making the TD-1 suitable for every standard of Drummer.
*Please note that each configuration of TD-1 does not ship with a kick drum pedal, drum throne, headphones or sticks. To ensure you have everything you need, check out our Bundle Deals.
---
Jam Along To Music - Without A Band!
One of the biggest issues for Drummers is being able to play along to music or jam with other musicians. With each version of the TD-1, Drummers can partner the drum kit sounds with 15 internal songs, covering music across all genres, to help make you an all-round great drummer. There are Rock, Pop, Jazz, Funk, Metal and even Ballads for you to practice along to. Not only that, you can connect a media player to the Aux In to play along to your favourite songs as if you were in the band.
If you would like to jam along with other musicians, check out the Roland Drum Monitors.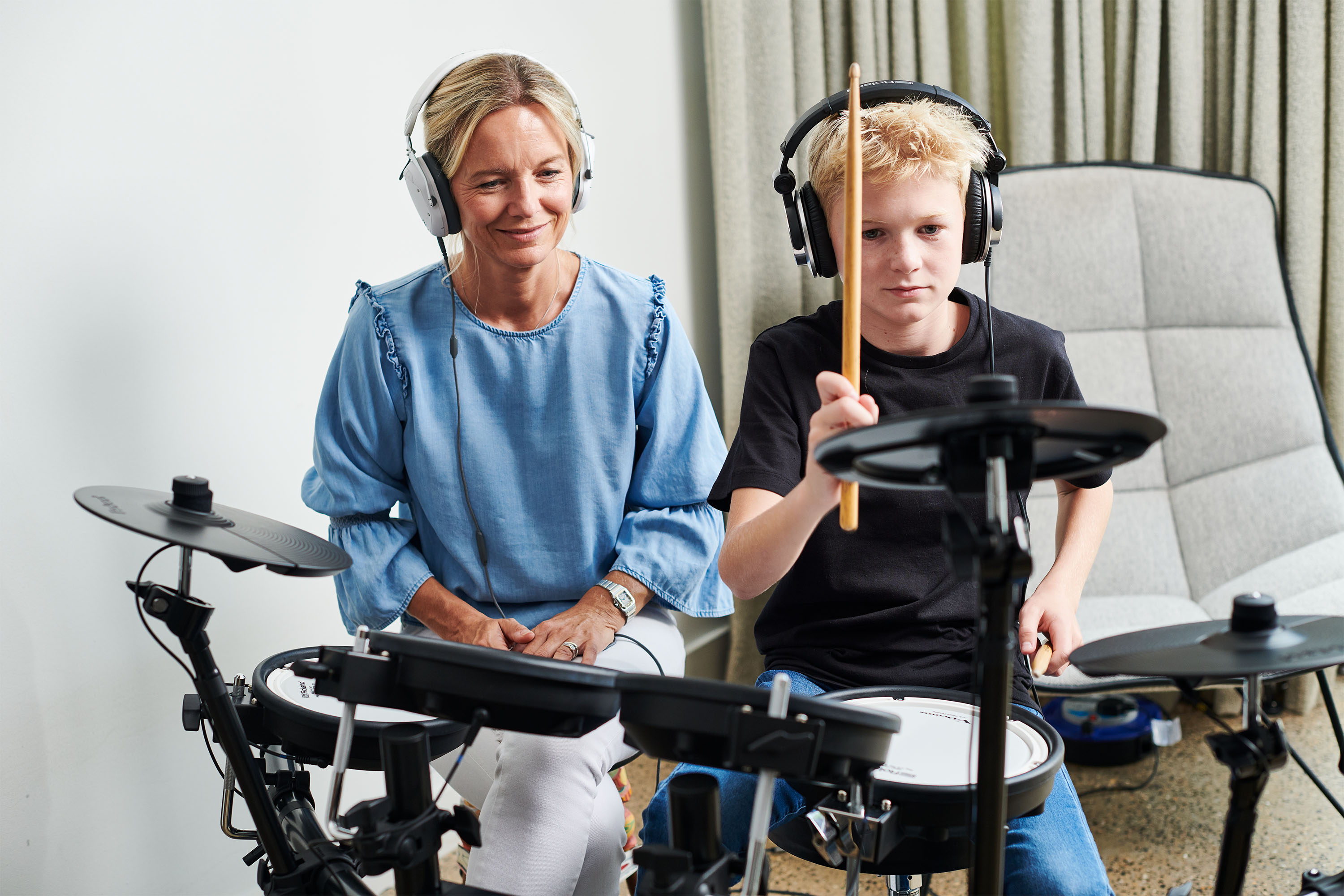 ---
The TD-1 Is Your Own Personal Drum Tutor
The TD-1 Module comes with 10 great lessons to help you improve as a Drummer, no matter what stage you are at.
The Lessons:
Time Check (Easy & Hard) - The accuracy of your playing will be checked against the metronome.
Change Up - The play along to the rhythm type, which will change every two measures.
Auto Up/Down - The tempo of the metronome will increase in steps, then decrease.
Quiet Count - The metronome alternates between "sounding and not sounding" at every four measures, and the cycle will repeat.
Tempo Check ( Easy & Hard) - Practice playing at a steady tempo without relying on the tempo sounded by the metronome.
Stroke Balance - Measures the volume discrepancy between your right and left hands, so that your playing becomes more consistent.
Timer - You can use this to specify a daily time goal for practising.
Recording - This function lets you easily record your own performance or somebody else's. This is a very useful practice tool, as not only can you check your own drumming, you can reference another drummer.
There is a built-in Metronome, which can be easily read on the LED screen, so you always know what tempo you are playing at. You can also set your own custom BPM so that you can practice at any tempo you like.

If you would like to practise without disturbing your neighbours or those around you, partner your TD-1 with a pair of Roland Headphones (sold separately).
---
Seamlessly Connect With A Computer Or Other Devices
Connect your TD-1 Module via a USB cable (sold separately) to your computer and you can use your chosen TD-1 V-Drums Kit as a MIDI trigger to play your favourite external sounds. You can also use the USB output to connect to teaching apps, like Melodics. Roland have also given you 40 free lessons on this App to get you on your way too!
The TD-1 has the same latency as the flagship Roland TD-50, which is the lowest of any electronic kit at just 2.6ms.
For users wanting to customise the internal kits, use Bluetooth Audio, transmit audio over USB and have larger pads, check out the TD-07.
---

---
<< Shop The TD-1 Range Below. >>