Shure GLX D14/85
#GLXD14UK/85-Z2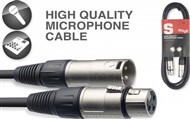 £4.49!
Shure GLX D14/85 Product Overview by GAK
The Shure GLX D14/85 is a lavalier wireless system designed wirth Shure's high quality specifications. This system is comprised of a GLXD4 wireless receiver, a GLXD1 bodypack transmitter and a WL185 lavalier condenser microphone. The GLX D14/85 overall offers unbeatable hands-free performance for speech applications.
The single-channel wireless receiver boasts revolutionary LINKFREQ automatic frequency management while the bodypack transmitter provides up to 16 hours of continuous use and operates at a range of 30m indoors.
The premium wireless cardioid condenser lavalier microphone is perfect for speech applications requiring excellent rejection of ambient noise. The WL185 has a 130 degree pickup angle and has a 1.2 meter cable terminated with a miniature 4-pin mini connector.
GLXD4 wireless receiver
GLXD1 bodypack transmitter
WL185 cardioid condenser lavalier microphone with windscreen and tie clip
SB902 rechargeable Lithium-ion battery
USB charge cable
Padded zipper case