Zildjian K Crash Ride (18in)
#K0808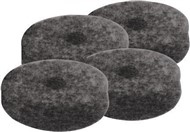 £4.00!
In Stock
Next day delivery

RELATED PRODUCTS
Zildjian K Crash Ride (18in) Product Overview
Zildjian's K series cymbals continue to inspire drummers today with their deep, warm, and expressive sounds developed by Kerope Zildjian in 19th Century Turkey.
This 18" cymbal performs with good ride definition and dry crash qualities.
Good stick definition with a dry crash
Great rock crash
Order it today!