Zildjian ZBT Expander Cymbal Box Set - ZBTE2P
#ZBTE2P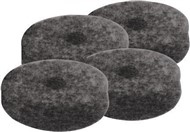 £4.00!
Awaiting stock, pre-order now

Zildjian ZBT Expander Cymbal Box Set - ZBTE2P Product Overview
Revolutionary new manufacturing techniques developed by the Zildjian Sound Lab release a fast, bright, high-volume sound from the power-packed ZBT alloy. They make an ideal first set of Zildjians for any school marching and concert band. Pre-matched box set includes an 18" Crash and 18" China.