Ableton Push 2 Product Overview By GAK
The latest controller from Ableton With Free Ableton Live 10 Intro
There are many control solutions for the highly successful LIVE series of software by ABLETON and they come in many guises shapes and sizes depending on your needs and of course your budget. However the only truly complete all in one solution is the superb and newly refined Ableton PUSH 2. Push is the ideal Ableton controller for performers and songwriters. Creating music has never been so fun! The main control panel makes it easy to find sounds, effects and deeper editing functions plus the pads are extremely playable.
Designed and manufactured by ABLETON themselves, they have taken a level of care and attention to detail never before seen in a controller. Evidence of this is obvious as soon as you power PUSH 2 up. The feel of the ultra responsive RGB pads, the beautiful full colour OLED display and the general built quality belies an overall feel and responsiveness not found anywhere else.
What does Push do?
PUSH 2 enables you to easily play and program beats, harmonies and melodies. The new sampling menu offers incredible, intuitive workflow allowing you to slice samples across the pads, time stretch your samples or trigger single hits. With Push 2, browsing and previewing is now much easier plus the new full colour animated display offers you a better view of your controls. The pads are now even more responsive with velocity and pressure sensitivity. The hardware overall feels better and more robust. Push 2 was designed to work seamlessly with ABLETON offering hands on control of one of the most popular DAWs on the market today. The passion the dedicated team at ABLETON have for their product is evident from the moment you open your new PUSH 2.
Click Here to check out our latest Ableton Jam night at the GAK shop in Brighton.
Ableton Live Software GAK overview
Ableton are back with the latest edition of their popular digital audio workstation. The full Suite edition features over 1500 production-readyy sounds and 5+GB of loops and samples, meaning you will never run out of sounds. Live 10 features an insane catalogue of vintage synthesizers, drum kits and one-shot samples, acoustic instruments and loops for you to choose from.
There are a tonne of new features aimed at improving your workflow within live 10. These include new plugins such as; a new synth (Wavetable), echo plugin (giving you digital and analog delay), Drum Buss station (giving you the ability to add digital warmth, compression and to shape your low end) and a guitar pedal plug-in.
What's new in Ableton Live 10?
There are a whole host of impressive new features in Live 10, these include; a new synth, an echo plugin, a Drum Buss station and a guitar pedal plug-in. Usability has also been improved and tweaked using user feedback to provide to best possible experience.

GAK Notes - Push 2 is one of our favourite controllers for Ableton. With so many out options out there, they've really had to raise the game in order to compete with the 3rd party controllers designed to work with thieir software platform. Ableton have truly delivered a hands on, rock solid peformance and production tool.
Push 2 Q & A
What is Ableton Push?
Push basically allows you to use your Ableton Live software as an instrument, enabling you to control every part of the software. It provides a hands-on experience and a much more tactile approach to making music with a computer.
Is it possible to use Push as a standalone instrument?
No, it must be used in collaboration with Ableton Live.
What's new in Push 2?
There are many updates in the new Push, these include; a larger, higher resolution display, more sensitive and responsive pads, improved beat slicing and sampling to name a few.
What's new in Live 10?
More slicing features, 16 velocities, hands-on audio and midi routing and visual feedback for better recording and performance.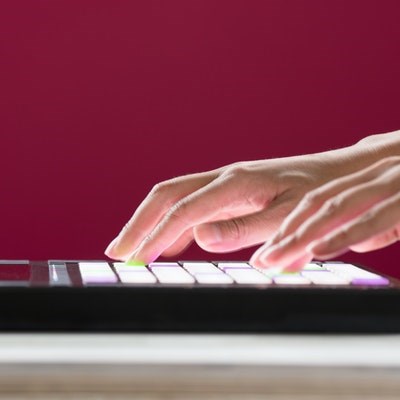 GAK Notes - Can you DJ with Push? Yes, it's possible to use Push within your DJ set up to bring more interesting elements into your set... If you'd like further details on the Ableton Push 2, don't hesitate to get in contact.
Check out some Ableton Soundcloud Clips Below - these are some examples of Ableton Beat Tools giving you an idea of the types of beats you could create using the Ableton Push 2 and Live Software.
Hardware instrument for hands-on playability with Ableton Live 9.5
Play or step sequence beats, notes, chords and automation
New sampling workflows: slice, play and manipulate samples from Push
Large multicolour display adapts to show what you need
64 sensitive and playable backlit pads
8 touch-sensitive encoders for controlling mixer, devices and instruments, and Live browser navigation
Clip launch mode for live performance and arrangement recording
Scales mode offers unique approach to playing notes and chords
Includes Live Intro for new users
Included:
-Push hardware
-100-240VAC, 50/60Hz with interchangeable heads for North/Central America & Japan (Type A), China (Type A & I), Europe (Type C), UK (Type G), Australia & New Zealand (Type I)
-USB cable 1.40m (55.12 inches)
-Quick Start Guide Download version of Live 9 Intro
Dimensions:
-Width: 370mm (14.57 inches)
-Depth: 293mm (11.54 inches)
-Height (body): 26mm (1.02 inches), (body encoders): 46mm (1.81 inches)
-Weight: 2990g (6.6 pounds)
Connections:
-External Power: 12V DC 1.25A
-USB Power: 5V/0.5A
-Two pedal inputs
-Kensington Lock
Shell - The upper shell is a thick but lightweight plate of anodised aluminium
Pads:
-Soft silicon pads, carefully calibrated to respond perfectly at any velocity
-RGB backlighting
Buttons - The control buttons gently click and are lit with white or multi-colored LEDs to indicate a variety of states
Encoders - High-resolution endless encoders that respond to touch
Display - The high-resolution RGB display is bright and clear at any viewing angle and under any lighting
Touchstrip:
-17cm touch strip for pitch bend/scrolling
-31 LEDs for navigation
Customer reviews
out of 5
Stefan mirfin

04/12/2020

Superb bit of kit. Loving it bere

MMN

01/6/2020

Great product. Good build quality and the integration with Ableton Live is obviously fantastic. So nice not to be staring at a computer screen and using a mouse

Clive

05/4/2020

Excellent!

Ian Pigot

17/3/2020

I am 68. When I first became interested in music all I had was a guitar like a cheese cutter. The action was so high it was painful and almost impossible to play. Now I have the Ableton Push 2. WOW. A great piece of kit for composing and manipulation of sound. 10/10.

Andrew.C

19/10/2019

A much more preferable interface to Live than a mouse and keyboard.
Load more reviews