V12 Finance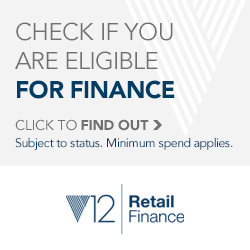 Get it on finance
Can't quite afford your dream guitar? Is that long-desired drum kit still just out of reach? If so, GAK can help!
We have many different finance options available on selected orders over £250 including 0%, Buy Now Pay Later and interest bearing agreements with instant decisions through V12 Finance, you can now check to see if you will be eligible for finance by clicking the link above.
---
Apply for V12 Finance

Fill your basket with everything you want from GAK and go to the checkout.
During checkout, select the finance option you want as your method of payment.
You will be sent to our finance provider's secure server to complete your application.
Finance provider V12 will use the information provided to make a decision and complete checkout if you are approved.
---
It's never been easier to apply for finance...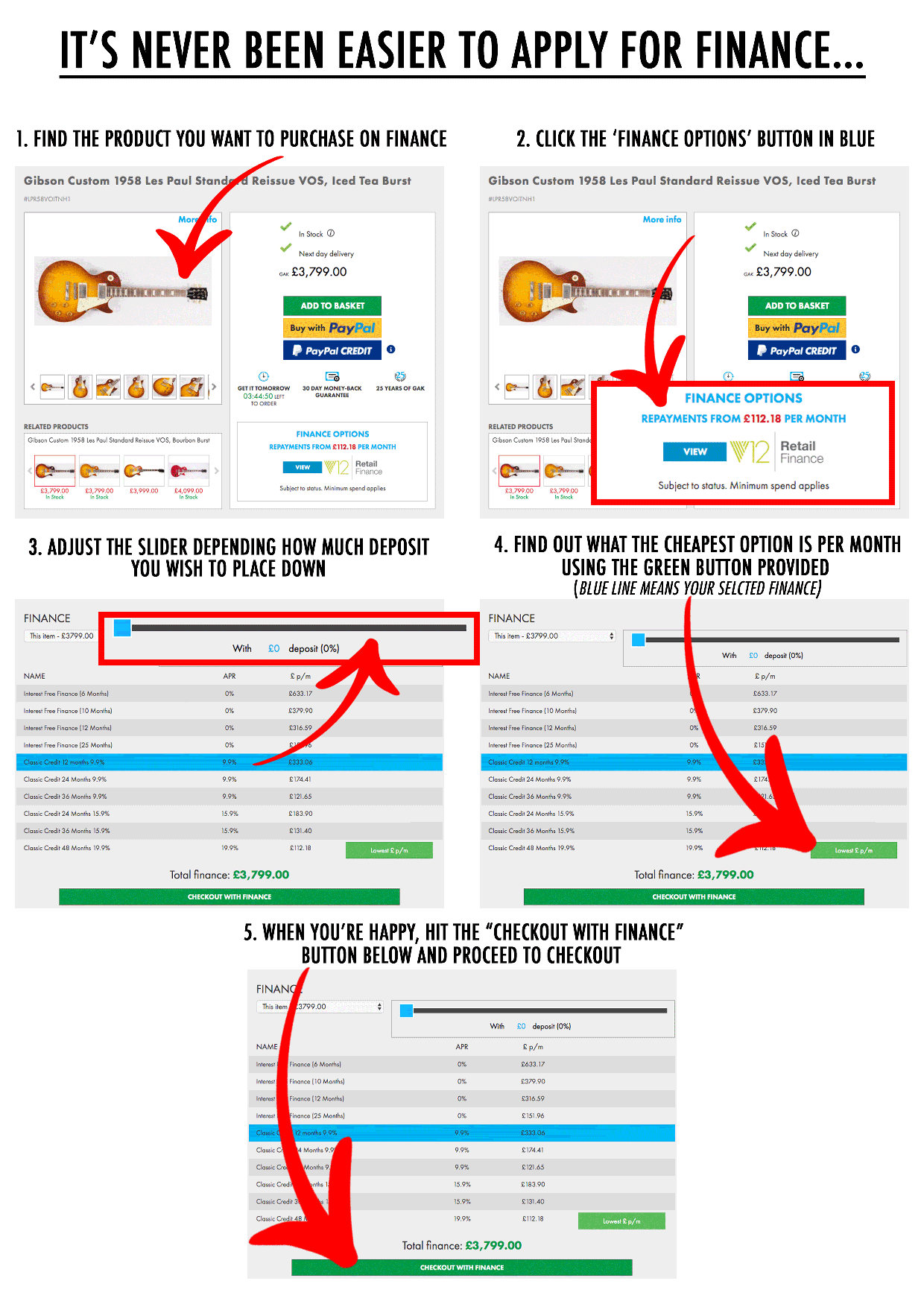 Buy Now Pay Later: Representative Example
BNPL options are available on products and baskets between £250 & £5000 on all 6, 9 & 12 months deferred periods. Customers are entitled to pay the loan off in full at any point during this period. Upon the conclusion of the deferred period an incremental monthly payback term will begin over a period of months defined by the package you have chosen.
Finance example: A £599.00 Loan - Buy Now Pay Later (12 months/36 months) 19.9% APR representative your monthly payments will be £25.67 for 36 months. There is a deferred period of 12 months on your loan, making your total term 48 months. Buy Now Pay Later Option: If you exercise the buy now pay later option before the end of the non-payment period shown in the agreement the amount of credit repayable will be £599.00 plus the settlement fee of £45.00 but you will pay no interest. If you have not paid this sum in full by that date interest (at the rate specified above) will be charged from the date we told you your agreement was live. If you have paid any partial repayments interest will be charged only on the amount of credit that remains unpaid. The total cost for credit (interest and charges) is £325.12 rate of interest 13.58% -  The total amount repayable is £924.12 19.9% APR representative.
Total cash price: £599.00
Deposit: £0.00
Amount of credit: £599.00
Duration of agreement: 48 months
36 payments of : £25.67
Cost of Credit :325.12
APR-Representative : 19.90%
Rate of Interest : 13.58%
Total amount payable £924.12
Settlement fee £45.00
Estimated first payment : 2nd January 2021
Please note - Should a customer make a payment during the deferral period, not only will this reduce the amount of interest charged on the remaining balance at the end of the deferral period but it will reduce the customer's monthly repayment over the contracted repayment period. A letter will be sent to the customer from V12 Finance confirming their new monthly repayment.
Representative Examples
 

Representative Example

Purchase Price
£2,000.00
Total Repayable
£2,000.00
Deposit
£200.00
Duration of Agreement
24 months
Amount of Credit
£1800.00
Rate of Interest (Fixed)
0% pa
24 Monthly Payments
£75.00
0% APR Representative
 

Representative Example

Purchase Price
£2,000.00
Total Repayable
£2,182.88
Deposit
£200.00
Duration of Agreement
24 months
Amount of Credit
£1800.00
Rate of Interest (Fixed)
5.08% pa
24 Monthly Payments
£86.62
9.9% APR Representative
---
Frequently Asked Questions
Finance is subject to status - Am I eligible?
You must be 18 years of age. If you are under 18, your parent or guardian can apply for finance on your behalf.
Be a permanent UK resident
Hold a bank or building society account capable of handling direct debit payments
The minimum value of the product(s) must be over £250
Unfortunately, we are unable to accept applications from people who are unemployed and in receipt of state benefits
Who provides the finance?
Our finance is supplied by V12 Retail Finance. Its secure and friendly online system can provide you with a decision in seconds.
Can my order be sent to a different address?
Finance orders can only be shipped to the address given in your finance application. If you are not able to accept your order then we will attempt to redeliver. However; due to FCA regulations, orders can only be delivered and not collected from our courier's depot.
---
Terms and Conditions
You must be 18 or older
You are in permanent paid employment (over 16 hours per week)
You have been a resident in the UK for at least 3 years and will continue your residency in the UK
You have a debit or credit card in your name and registered to your address
You have a Bank or Building Society current account
All finance orders must be delivered to the address in which the credit agreement has been filed out. All finance orders must not be delivered to any address other than that shown as the current address on the credit agreement
Finance is only available to UK residents but not available to VAT free Jersey or Guernsey. Or the Isle of Wight/Isle of Man
All online finance orders will be sent as a complete order within 8 weeks or your finance application will be cancelled
GAK.CO.UK LTD is registered in England and Wales 04578270. Registered office: 30 - 34 North Street Hailsham East Sussex BN27 1DW GAK.CO.UK LTD acts as a credit broker and only offers credit products from Secure Trust Bank PLC trading as V12 Retail Finance. GAK.CO.UK LTD is an appointed representative of The Guitar Amp and Keyboard Centre Limited which is authorised and regulated by the Financial Conduct Authority. GAK.CO.UK LTD FCA registration number is 731400. The Guitar Amp and Keyboard Centre Limited FCA registration number is 684977. Credit provided subject to age and status V12 Retail Finance Limited. Registered in England and Wales 4585692. Registered office: One Arleston Way, Solihull, B90 4LH. Authorised and regulated by the Financial Conduct Authority. Our FCA reference number is 679653.