Meinl Byzance Dark Crash (18in)
#B18DAC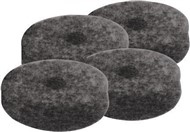 £4.00!
Awaiting stock, pre-order now

RELATED PRODUCTS
Meinl Product Overview
The Meinl Byzance Dark cymbals are not lathed and have their original appearance and sound characteristic. They are distinguished by an earthy sound with a fairly short sustain.
Dark in a low frequency range, and esoteric character caused by the untreated finished. Earthy with a strong attack and short sustain.

Dark cymbals are not lathed and have their original appearance and sound characteristic
They are distinguished by an earthy sound with a fairly short sustain
Dark in a low frequency range, and esoteric character caused by the untreated finished
Earthy with a strong attack and short sustain