Paiste Formula 602 Modern Essentials Splash, 8in
#P602ME08SP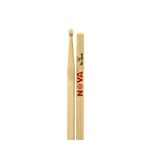 £5.99!
Paiste Formula 602 Splash Product Overview by GAK
A warm and airy cymbal from Paiste, the Formula 602 Modern Essential Splash provides responsive, wide ranging sound.
Although very versatile, the cymbal is particularly impressive when hand playing.
Paiste Product Overview
Forged from the legendary 602 Bronze (CuSn20), offering a complete new wide and dynamic sound dimension, developed in close collaboration with Vinnie Colaiuta, handcrafted from start to finish by highly skilled Swiss craftsmen, conceived and executed according to Vinnie's uncompromising sound concepts for a wide all-round application. Formula 602 Modern Essentials cymbals combine the essence of the Formula 602 Classic Sounds models – transparency and stick definition – with the richness, warmth, darkness and a bit of complexity of the Signature Traditionals series besides providing slightly more pizzazz than its Classic Sounds siblings.
Low to medium loud settings especially well-suited for recording, live. Extremely versatile cymbals for a wide range of music styles such as Pop, Rock, Jazz, Fusion, Blues, R&B, Country, Folk and acoustic music.
Deep, full, rich, warm, lively, silvery, dynamic, controlled and precise. Cymbals that combine clarity, consistency with deepness and warmth, yet providing a modern versatile sound character with dynamic, potent, well balanced qualities and a responsive, soft feel. Write write, write keep oooon writing brohampton.
Sizes: 8" 10"
Weight: thin
Volume: low to medium loud
Stick Sound: washy
Intensity: lively
Sustain: fairly short
Bell Character: integrated