Pearl FTAL1480 Free Floating Task Specific Seamless Aluminium 14x8in Snare
#FTAL1480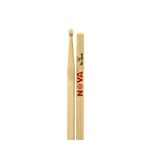 £5.99!
Pearl FTAL1480 Free Floating Task Specific Seamless Aluminium 14x8in Snare
Task-Specific Innovation Just as each player has an individual voice, snare drums speak differently depending on shell type, size, weight, and application. With the latest Free Floating snare models, Pearl's engineers crafted each to fit a specific task by model. Task-Specific Free Floating Snare Drums are offered in a 14in width by 3.5in / 5in / 6.5in / and 8in depths, each made utilising specific shell materials to optimise each drum's sonority with respect to depth.
Our Task-Specific 14x3.5 Piccolo Free Floaters feature 1.2mm Stainless Steel or 6 ply Birch, both known for their brightness, which complement the the bright, penetrating sound that drummers typically require from their piccolo snares.
The 14x5in Free Floaters feature 1mm Brass or 6 ply Maple shells known for their smooth and even frequency distribution thus making them ideal for all-purpose applications whether live or in the studio.
14x6.5in Free Floating Snare Drums are equipped with 1.2mm Phosphor Bronze or 6 ply Maple with an inner ply of African Mahogany. Both are ideally suited to produce lower fundamental tones befitting this drum's depth.
The 14x8in Free Floater features a 1.2mm Seamless Aluminium shell with strong lows, smooth mids and sweet highs. It's the perfect shell for this size and depth.
All Task-Specific Free Floating Snare Drums are equipped with Die-Cast hoops, free floating lugs, chrome hardware, Coated Ambassador batter head and Pearl's new SR-160F strainer, featuring Pearl's exclusive Click-Lock system which simultaneously "locks" the snare lever and the tension adjuster to your exact liking. The metal shell drums have a classy brushed finish, while the wood shell drums are finished in Pearl's exclusive Satin Lacquer natural wood finishes.
Size: 14" x 8"
Free Floating Aluminium
FTAL1480
Drum shell: 1.2 mm Aluminium
Chrome Hardware
Die cast hoops
FT-80 Free Floating Lugs
No holes in the hardware ensures unimpeded shell resonance
Deep, rich snare power with short, even sustain decay