QSC K12.2 Active PA Speaker
#I0000780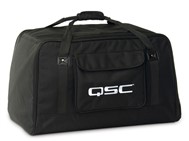 £78.99!
QSC K12.2 Active Loudspeaker overview from GAK

The 'K-Series' remains to be QSC's best selling family of active loudspeakers and for good reason. The latest k.2 series boast powerful amplification and advanced onboard technology, delivering exemplary sound.

The K12.2 groups a 2000W class-D amplifier with a solid 12-inch woofer and 1.4-inch titanium compression tweeter, the result is a speaker with plenty of gut-punching bass and top end clarity.

The K12.2's built-in DMT (Directivity Matched Transition) technology evenly spreads high and low-frequency coverage across your listening area, eliminating the risk of "dead" and "hot" frequency zones.

The back panel control section of the K12 has been wonderfully remodelled on the new K12-2. The new LCD display and control panel allow you to navigate a range of parameters and applications with ease.

Inputs include 2 channels with mic/line XLR/TRS combos and a stereo 3.5mm jack input for the connection of music players. Each channel has individual gain control knobs to dial-in your preferred levels. The k12.2's line level mixed output includes a blend of all three inputs.


The K12.2 has 11 factory presets available that adjust the speaker's output to accommodate a variety of uses and spacial requirements with both live and instrument presets. Adjustable crossover gives you the option to select a crossover frequency that matches a tethered sub-woofer for optimized frequency distribution. Furthermore, the K12.2's control panel also provides an adjustable 4-band parametric EQ with a scene saving feature that allows you to quickly and easily recall your customized settings.

The K12.2 features a rock solid ABS enclosure that protects all your vital elements for a life of frequent use. The shape allows for floor monitoring or pole mounting, whilst the straight firing and downward tilt hook mounts mean it can be flown - truss or wall mounted.

Product registration will get you a superb 6-year warranty on any speaker in the QSC K.2 Series.
More questions about the K-Series? Check out QSC's handy
Q&A.
•Best in class audio performance
•2000 Watt Class-D amplifier module
•Factory Presets and savable/recallable Scenes for commonly-used applications such as Stage Monitor, Dance Music, Musical Instrument Amplification, Hand-held Microphone and more
•Multi-function digital display for control and selection of loudspeaker functions including cross-over, EQ, delay and frequency contours
•Intrinsic Correction tuning and loudspeaker management
•DMT™ (Directivity Matched Transition) design provides excellent power response and consistent performance across the listening area (75-, 90-, 105-degree, K12.2, K10.2, K8.2)
•Refined, professional appearance looks great in any application
•Rugged ABS enclosure for long life and lasting durability
•Deployment in either main PA or floor monitor position
•Dual pole cup mounts (straight-firing and 7.5 degree down-tilt)
•M10 fittings for flown applications
•Optional security panel prevents unauthorized tampering of controls
•6-Year Warranty with product registration