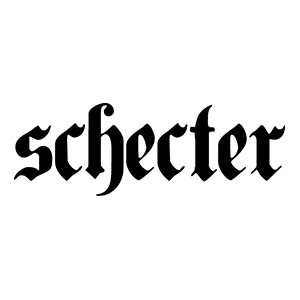 Schecter first began life as a California based guitar repair shop opened by David Schecter in 1976, offering replacement/spare parts for other big guitar brands such as Fender and Gibson. It wasn't until 3 years later in 1979 that Schecter started their own fully assembled guitars. Just four years later the guitars had become so popular that the custom shop reached its production limit and could no longer meet demand.
The guitars are well thought of throughout the industry with a host of leading guitarists using them, these include; Disturbed, Avenged Sevenfold, The Cure, Papa Roach, Seether, Prince, Stone Temple Pilots, Nevermore and Black Label Society.
Schecter's guitar build is up there with any other brand on the market. From strat-like guitars to semi-hollow models, to impressive basses and a small choice of acoustics, we have a Schecter guitar for everybody. Have a browse through our fantastic choice of Schecter's, if you have any questions at all, please do not hesitate to get in touch.