Shure VP83 LensHopper Camera Mount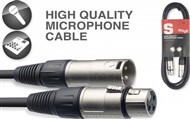 £5.60!
Shure VP83 LensHopper Camera Mount Product Overview by GAK
The Shure VP83 LensHopper Camera Mount is a compact condenser shotgun mic, designed to provide a practical all-in-one solution for easy, detailed capture with DSLR cameras and portable audio recorders. The integrated 3.5 mm audio cable allows quick connection to the camera or recording device and a standard size shoe mount with a 1/4" threaded base can be easily mounted on a camera or stand. The VP83's easily accessible controls allow adjustments for different recording environments with low-cut filter and three-position gain.
(Camera not included)
Detailed, high-definition audio with full low-end response for professional results every time.
High sensitivity and low self-noise with wide frequency range for natural audio reproduction.
Highly directional supercardioid/lobar polar pattern rejects unwanted off-axis audio while clearly capturing the intended sound source.
Superior RF immunity to avoid against unwanted audio artifacts from cellular and RF devices.
Easily accessible controls at the back of the microphone including:
Three-position gain switch (-10 dB pad, 0, 20 dB boost) to compensate for different recording environments
Low-cut filter switch to eliminate distracting background noise and room ambience, and also controls on/off function
Up to 130 hours of battery life from 1 AA alkaline battery (included).
Integrated Rycote® Lyre® shock mounting system provides superior isolation from vibration and mechanical noise through its customised, robust design exclusively developed with Rycote® for the VP83 model.
Ultra-lightweight yet durable, all-metal construction designed to legendary Shure quality standards.
Integrated 3.5 mm audio cable for quick connection to camera or recording device.
Standard size shoe mount with a 1/4" threaded base for both on camera use, or easy mounting on a stand.
Includes foam windscreen to reduce unwanted wind noise without affecting sound quality. Rycote® Windjammer® accessory available separately.