Zildjian K Dark Medium Ride (22in)
#K0830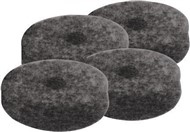 £4.00!
In Stock
Next day delivery

Zildjian K Dark Medium Ride (22in) Product Overview
Zildjian's K series cymbals continue to inspire drummers today with their deep, warm, and expressive sounds developed by Kerope Zildjian in 19th Century Turkey.
The 22" K Zildjian Dark Medium Ride is designed to perform in rock and jazz settings with equal effectiveness. This cymbal features a large bell for excellent projection in rock settings, and special hammering and lathing to open up the cymbal for broad tonal complexities in jazz settings. Exclusive "pin" lathing enhances the crashability and gives the cymbal a distinct appearance reminiscent of 1960s era K Zildjians.
22in Diameter
Developed in conjunction with Cindy Blackman
Designed to perform in rock and jazz settings with equal effectiveness
Distinct appearance reminiscent of 1960's era K Zildjians