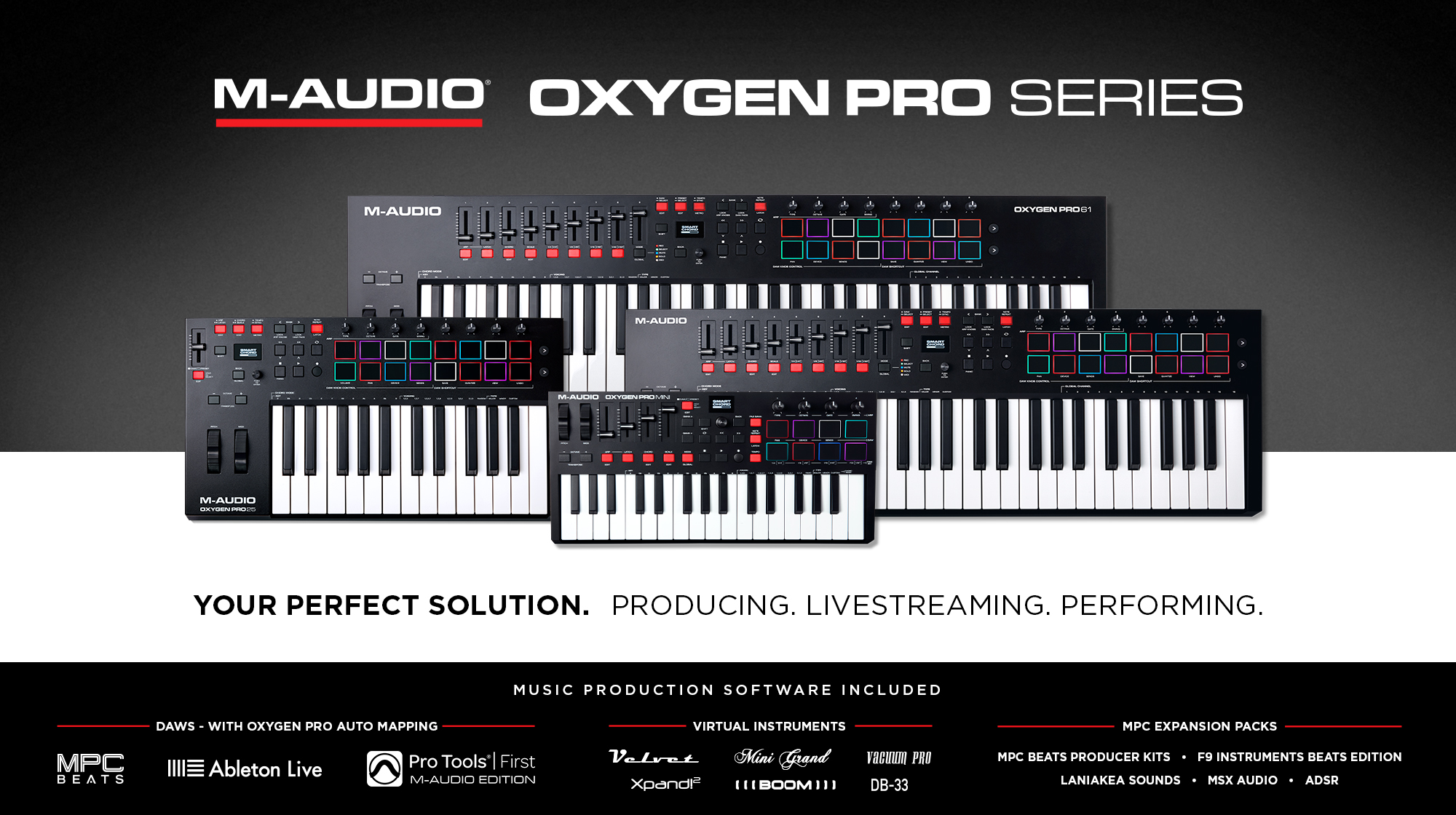 M-Audio Oxygen Pro Series
Four new keyboard controllers join the M-Audio controller line-up - Oxygen Pro 25, 49, 61, and Mini – adding smart controls, auto-mapping, and built-in arpeggiator!
The Oxygen Pro keyboard controllers have been specifically designed for the professional music producer. If you need maximum control of your DAW, virtual/software instruments and require precise playing options, the Oxygen Pro Series offer professional-grade technologies that are housed within a fun, intuitive and easy to use controller. The M-Audio Oxygen Pro MIDI controllers are powerful studio and live performance tools, enabling you to keep your mind on creating music - not programming/wrestling your software.
The M-Audio Oxygen Pro MIDI Keyboard Controller comes in 4 different key sizes, all boasting the same core features. Whether you opt for the Oxygen Pro 61, Oxygen Pro 49 or Oxygen Pro 25, each is USB powered, have an OLED Screen, x16 RGB backlit velocity-sensitive pads, Semi-Weighted Keys with Aftertouch, x9 Assignable Faders (excluding the Pro 25), x8 Encoders/Pots, x8 Sliders, an Arpeggiator, Note Repeat, Chord Functionality, Scale Functionality, Assignable Splits/Zones, DAW hotkeys, Auto-Mapping and a 5-Pin MIDI Output.
The Oxygen Pro Mini is also available, offering a more portable solution for producers that need to work on-the-move. The Oxygen Pro Mini shares almost every spec of the larger models, the main differences being a 32 note velocity-sensitive semi-weighted mini-key keybed, 8 RGB pads and 4 assignable knobs/buttons and faders.
M-Audio have a long legacy of creating studio controllers with innovative workflow and playability. The Oxygen Pro series builds on this further as each Oxygen Pro controller automatically maps to the popular most widely used DAWs across the industry, including MPC Beats, Pro Tools, Ableton Live, Logic Pro, Studio One, and Steinberg Cubase.
Free Premium Software Suite Included!
M-Audio Oxygen Pro controllers open up worlds of expression and creativity, making it more seamless than ever to bring your production ideas to life. A comprehensive software package is included so any songwriter, producer, live streaming musician or composer has all the tools needed to create a full production out of the box.
Includes MIDI editor software and a complete software production package:
DAWS: MPC Beats, Pro Tools | First M-Audio Edition, Ableton Live Lite
Virtual Instruments: Hybrid 3 - Multi-oscillator synthesiser, Velvet - Electric Piano, Mini Grand - Acoustic Piano, Vacuum - Analogue synth, Boom - Vintage drum machine, DB-33 - Classic Organ
MPC Expansion Packs: MPC Beats Producer Kits - Multi-Genre Beat Production Pack, F9 Instruments Beats Edition - 25 High Quality Instrument Samples, LANIAKEA Sounds – TrapSoul & LoFi Production Pack, MSX Audio - Soulful Drums Collection, ADSR - LoFi Producer Collection, MVP Urban Roulette Beats Edition - Urban Kits & Samples Expansion Pack, Cr2 Deep House Beats Edition - Deep House Expansion Pack