HeadRush Pedalboard Processor Pedal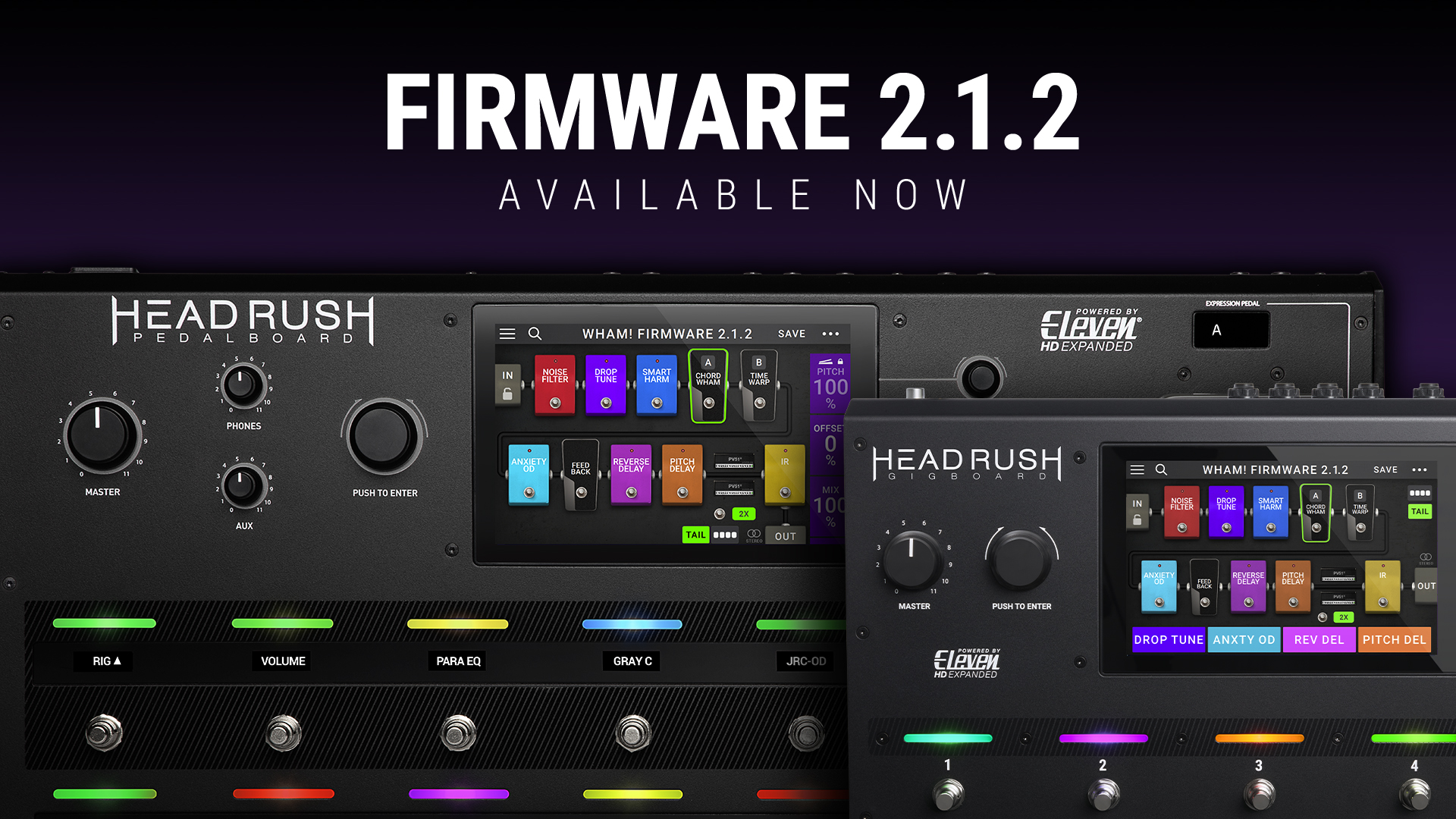 HeadRush Pedalboard overview from GAK

The HeadRush Pedal Multi-FX Processor is the brand new, groundbreaking, game-changing pedal board from North American guitar tech maestros HeadRush.

The HeadRush Pedal is the worlds first stand-alone amp simulator, multi-effects processor and a quad-core processor with an intuitive touch-screen interface. Powered by HeadRush's exclusive Eleven® HD Expanded™ DSP software, the HeadRush Pedalboard allows you to craft truly unique tones by combining an array of microphone, amplifier, cabinet and FX models in a seamless signal chain, all with adjustable parameters. The HeadRush Pedalboard boasts 12 assignable foot switches and a super smooth action expression pedal, whilst its seven-inch backlit touch screen allows for precise shaping, parameter adjustment and feedback.

The HeadRush Pedalboard features gapless preset changes with reverb and delay tail spillover, ensuring perfectly smooth transitions with no intruding switch-over noise or signal interference. A built-in looper provides you with 20 minutes of recording time, with an additional ability to load in custom impulse response files and exclusive effects found nowhere else.

Unique to the HeadRush Pedalboard is its seven-inch high-resolution touch-screen display. With ultra-smooth swipe, drag and drop functionality, you can chain your effects in any order you wish to acquire the desired tone. The large display also provides accurate feedback when using the expression pedal with the HeadRush's 'Hands-Free' mode, and thanks to its ultra-bright appearance, the displayed parameters are clear enough in a dark venue environment. Finally, each individual footswitch also features its own individual OLED screen displaying your current settings and effects assignment fully corresponding to the main screen so you know exactly where you assign each effect.

The onboard models and effects are outstanding, with 33 new and existing amp models from the Eleven Rack® such as the Plexiglas Vari (based on the 1967 Marshal Super Lead head) or the Black SR (based on the 1965 Fender Super Reverb combo amp). There are 15 available cabinet models including a range based on existing Fender, Marshall, Roland, Bogner and Ampeg cabs. Experiment with and pair up the HeadRush Pedalboards expertly crafted amp and cab models to find the perfect tone suited to your tastes and tailored to your requirements.
The HeadRush Pedalboard also packs 13 modulation effects, 7 reverb/delay effects, 6 distortion effects, 8 rotary effects, 7 expression effects and 7 dynamics/EQ effects. There are 10 microphone presets that can also be dropped into your chain to affect the tone in various ways. Chose between 6 dynamic, 1 ribbon and 3 various condenser mics for even more experimentation and customisation.

The 'Hands Free Mode' allows you to adjust the input amount of each element in your chain using the expression pedal, with a smooth precise action you can adjust each elements influence on the final tone, including external pedals and effects connected to the device, leaving you to continue playing without the need to stop and use your hands.

You can introduce the HeadRush Pedalboard into your existing setup easily thanks to its large array of rear-facing connections. Available connections include a 1/4-inch guitar input, 2 XLR inputs with ground lift switch, 2 1/4-inch TRS outputs that can be switched between amp or line level, a 5-pin MIDI in/out for integration with external midi gear or your DAW and finally an onboard 1/4-inch stereo FX loop that allows you to connect additional pedals and outboard gear at any point in the signal chain. With its multitude of connections including the ability to introduce external pedals into your chain, the creative potential of the HeadRush is unparalleled.

Various features of the Pedalboard make it an excellent choice for the travelling and performing guitarist. Encased in an incredibly tough steel chassis, the HeadRush can handle vigorous use and inevitable bangs experienced on the road. The bright LED screen and 12 OLED scribble strips keep you fully up to date with assignments and status to make sure you never slip up and always have the correct sound. Robust build meets intuitive controls and advanced sound technology in the HeadRush, a forward-thinking guitar procesor designed to provide you with expert tonal control and untold experimental possabilities.
Gapless preset switching with reverb/delay tail spillover
Record and re-amp via USB
Hands-free edit mode
⅛-inch (3.5mm) aux input
Custom-designed quad-core DSP system
Integrate your FX and outboard gear
¼-inch (6.35mm) headphone output
Individual footswitch OLED screens
Road-ready steel chassis
MIDI input and output
Looper with 20 minutes of record time
Universal power supply
Customer reviews
out of 5
MIKE REEVES

06/10/2020

Nice bit of kit Well Pleased.

Phillip Dunn

03/10/2020

Brilliant pedalboard

Andy Simpson

29/9/2020

Epic beyond limits

TREVOR

21/7/2020

Great piece of kit and easy to use/ quick to pick up. Countless combinations of sounds and effects

Andy Simpson

08/7/2020

It's monumental
Load more reviews