Yamaha P-125 Digital Piano Overview By Gak
Building on the success of the Yamaha P115, Yamaha release the P-125 digital piano boasting impressive looks and all new features. They've upgraded the speaker system to provide a more realistic piano tone when playing, added Table EQ which allows you to tailor your sound when playing in different environments, included drum tracks and rhythm patterns to accompany you and they've integrated smart device control for controlling many of the onboard functions.
The Yamaha P-125 looks sophisticated and is compact enough to fit into most home environments. At just over 11kg, the P125's lightweight design also makes it a great choice for gigging musicians, band practice and studio use. The 88 note, fully weighted keybed provides the player with a realistic experience, ideal for those doing grades or wishing to improve their overall technique. There's two headphone sockets for quiet practice, plenty of effects and sounds to explore plus USB connectivity. Overall, the Yamaha P-125 piano will be a fine choice for pianists of any ability.
What are Yamaha P-Series Digital Pianos?
The P-Series of Yamaha pianos have been made to give you exceptional value for money while giving you access to some of Yamaha's world famous high end sounds and technology. They've got stylish looks, unrivalled playability at the price point and beautiful piano sounds. Other models in the range include the best selling P-45 and the P255. If you're a beginner or a parent looking for a digital piano for your budding musician, the P-Series is a fine range to choose from.
What is the Smart Pianist APP?
The Smart Pianist app lets you take control of many of the P-125's on board functions via a smart device. For example, you could set your iPad on the music rest and use it to select voice, rhythms and other Yamaha technology all on screen. There's chord recognition when playing back audio from your device and a host of other capabilities.
What rhythm types are included?
The Yamaha P-125 features on board accompaniments to help you keep time and practice playing along with rhythms. From rock to swing and everything in between, these tools can help to improve your playing abilities in a short space of time.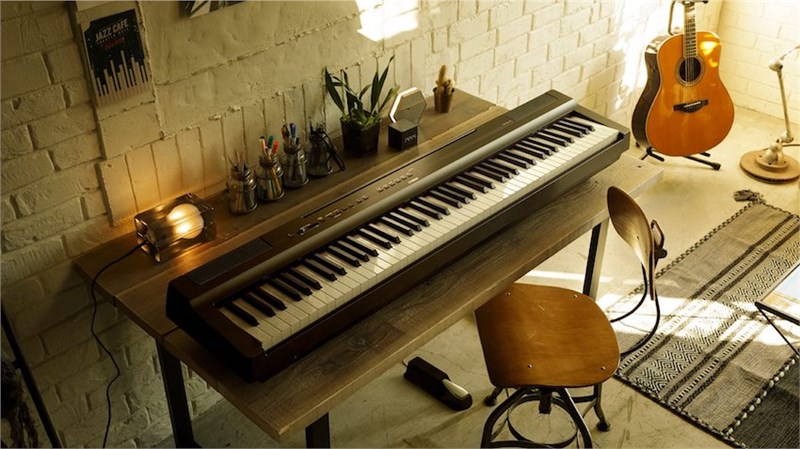 GAK Notes - The contemporary yet modern looks make the P-125 a stunning addition to any home or studio environment.
Yamaha P-125 Q & A
Why do need 88 notes on my digital piano?
Digital piano's do their best to emulate traditional acoustic pianos, and the Yamaha P-125 has 88 weighted keys to replicate the feel of a real piano.
Do I need to plug the P-125 into external speakers?
No, you don't need to. The P125 has built in speakers but you can connect it to external speakers should you wish to.
Does it come with a sustain pedal?
Yes indeed, the p-125 comes with sustain pedal.
Do I need to buy an external power supply and music rest?
No, these items are included in the box.
GAK Notes Connect your smart device with your P-125 for seamless, visual control of many of the onboard functions.
Width - 1326mm
Height - 166mm
Depth - 295mm
Weight - 11.8KG
Number of keys - 88
Type - Graded hammer standard (GHS) keyboard, matte finish on black keys
Touch Sensitivity - Hard/medium/soft/fixed
Panel Language - English
Pure CF Sound Engine
Polyphony - Number of Polyphony (Max.) 192
Preset Number of Voices - 24
Intelligent Acoustic Control (IAC) - Yes
Damper Resonance - Yes
SOUND BOOST - Yes
Functions Dual/Layers - Yes
Split - Yes
Duo - Yes
Number of preset songs - 21 demo songs and 50 piano songs
Recording Number of Songs - 1
Number of Tracks - 2
Data Capacity - 100 KB per song (approx. 11,000 notes)
Compatible Data Format:
-Playback SMF (format 0, format 1)
-Recording SMF (format 0)
Metronome - Yes
Tempo Range 5 - 280
Transpose - -6 to 0,0 to +6
Tuning - 414.8 - 440.0 - 446.8 Hz
DC IN - DC IN 12 V
Headphones - Standard x 2
Sustain Pedal - Yes (Half pedal available with optional FC3A)
Pedal Unit - (Optional)
MIDI - No
AUX OUT - [L/L+R][R]
USB TO HOST - Yes
Customer reviews
out of 5
Eve Melling

05/7/2020

Wonderful sound from the Yamaha

PAUL

03/6/2020

Great sounds great value Paul

Deirdre Farmer

25/2/2020

Great product and service

Jonathan Barker

11/2/2020

I've recently purchased the Yamaha P-125 and I'm really pleased and impressed with it. Very nice, full bodied piano sounds (4 of them). I gigged it last week and I had comments on how rich it sounded. The speakers in it are loud enough for you to hear yourself easily if connecting externally. I'm looking forward to using the electric piano too - good rhodes and wurlitzer samples. The 'rock' hammomd sample is a bit too distorted - My only gripe...

Dexter Ginn

24/12/2019

Lovely build quality. Smooth but realistic action on keys. Arrived next day, no problems. Highly recommend
Load more reviews