Yamaha Arius YDP-163 Digital Piano, Black Walnut
#NYDP163BUK
Yamaha YDP-163 digital piano in black walnut product overview by GAK
The Yamaha YDP-163 Digital Piano in Black Walnut is ideally suited for pianists of all abilities and is perfect for those looking to elevate their playing to the next level. YDP-163's feature Yamaha's Graded Hammer 3 keyboard action which successfully replicates the feel you'd expect from an acoustic model. This digital piano has three sensors and synthetic ivory key tops to give you real authentic piano touch and expression. YDP-163s CFIIIS concert grand piano sounds beautiful with is rich tone and wonderfully shaped character. The inbuilt speakers are loud enough for a multitude of different applications and there's a headphone socket for quiet practice at home. This piano is available in a range of color finishes to suit your home or playing environment. If you would like some more advice on the Arius YDP, please contact our piano experts directly on 01273 665413.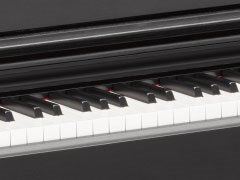 GAK notes - People who are learning the piano will benefit from Yamaha's GHS keyboard. You might be wonder what the GHS keyboard is. The Graded Hammer Standard keyboard feels heavier to play at the bottom and lighter at the top, just like an acoustic piano. This helps you to adopt the proper piano playing technique. Yamaha, rather cleverly, also thought to include a matte finish on the black keys which are designed to be less slippery even if you've been practicing for some time. Sweat can sometimes cause your fingers to slip.
Yamaha Product Overview
The Pure CF Sound Engine is the result of many years of piano-making history and expertise, combined with state-of-the-art sampling technology. Yamaha is the industry leader in digital piano technology and this is evident when listening to Yamaha digital pianos that utilize the Pure CF Sound Engine. The sound of the renowned Yamaha CFIIIS 9' concert grand piano is faithfully reproduced, allowing for incredible dynamics and expressiveness, making Pure CF-equipped digital pianos worthy of the Yamaha name.
Half-damper pedal control creates more detailed nuance and subtlety when playing, similar to pedaling on a grand piano. This feature allows for continuously increasing lengths of sustained notes as the pedal is depressed. Stereo Sustain samples provide mellow reverberations when the player depresses the damper pedal. Similarly, Damper Resonance provides broad and deep resonance when the pedal is used. The result is a more realistic sound, similar to that of an acoustic piano. It is even possible to detect the subtle changes that occur when the player begins to press the pedal while striking a key.
The YDP-163 is pre-loaded with a variety of classic piano songs for listening and learning pleasure. You can use the accompanying book, "50 Greats for the Piano" to follow along with the music and learn how to play iconic pieces. You can also play back the songs to enjoy these recognizable piano favorites. This feature is sure to add hours of enjoyment to this outstanding instrument.
The built-in recording function captures performances* with a single touch. You can record up to 2 tracks for simultaneous playback, enabling both hands to be recorded separately, or allowing you to overlay parts with different voices.
The Digital Piano Controller app for iOS touch screen devices adds a whole new level of functionality to your Yamaha instrument. Turn your iOS device into an intuitive controller, allowing convenient access to the features of your instrument. Adjust settings, select Voices, and even record performances.
Combine two Voices together, such as piano and strings, for an inspiring new playing experience. Nothing inspires piano practice like playing a piece with a different sound or creating unique combinations of two sounds together. Experiment to discover inspiring new ways to broaden your musical horizons.
With the Yamaha Intelligent Acoustic Control (IAC) feature, you can enjoy playing your digital piano at a lower volume in a quiet home environment. Before IAC was introduced, playing at a low volume resulted in a loss of treble and bass. With the development of IAC, the instrument automatically adjusts the balance of bass and treble, creating a more realistic sound with more depth. Additionally, the volume dial automatically makes fine adjustments to the overall sound of the speaker system (EQ) when played at a low volume. The ability to retain a rich and balanced sound on a digital piano, regardless of volume, ensures the highest sound quality.
The Acoustic Optimiser delivers naturally smooth tonal richness across the entire keyboard by regulating the flow of sound and control of tone from the cabinet of the instrument. Yamaha developed this new technology with an in-depth knowledge of the acoustic properties of musical instruments.
When playing and listening to the instrument using headphones, the Stereophonic Optimiser adjusts the spacing of the sound and the separation from the piano, resulting in a spacious, surround sound quality that will inspire you to play for hours at a time. Within this private listening environment, the sound of the piano can be perceived to come from the body of the instrument rather than from the headphones, providing a more realistic and natural experience.
A standard USB cable can be used to connect the instrument to a computer or mobile device, opening up a world of creativity, entertainment, and education. iOS devices can be connected to the instrument using the Yamaha UD-BT01 Bluetooth adaptor, or a Lightning-USB camera adaptor. The instrument can be used to interact
as
a controller and/or sound source with a variety of music creation applications.
Width 53 7/16" (1357 mm)
Height 33 27/64" (849 mm)
Depth 16 5/8" (422 mm)
Weight 9 lbs., 10 oz (42.0 kg)
Number of Keys 88
Type GH3 keyboard with synthetic ivory key tops
Touch Response Hard/Medium/Soft/Fixed
Number of Pedals 3
Half Pedal Yes
Functions Damper, Sostenuto, Soft
Language English
Number of Preset Songs 10 Demo Songs, 50 Piano Preset Songs
Number of Songs 1
Number of Tracks 2
Data Capacity 100 KB/Song (Approx. 11,000 notes)
Playback Standard MIDI File (SMF) Format 0 & 1
Recording Standard MIDI File (SMF) Format 0
Internal Memory Total maximum size approx. 900 KB (User song : One song approx. 100 KB Loading song data from a computer : Up to 10 songs)
Headphones Standard stereo phone jack (x 2)
USB TO HOST Yes