Ibanez RGDIX6MPBL-SBB Left Hand, Surreal Blue Burst
#RGDIX6MPBL-SBB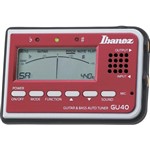 £19.99!
Awaiting stock, pre-order now

Ibanez RGDIX6MPBL Overview by GAK:
Being factory tuned D to D, the demands of down-tuning require a specifically designed responsiveness not found in "normal" guitars. To optimize for the rich, desirable thickness of tone that down-tuning produces, we extended the neck by one inch to a 26.5" scale. Longer-than standard yet not overly long. The neck is still considered a "fast" neck for speed soloing. Extra-deep cutaways grant comfortable access to the necks highest notes. The pair of DiMarzio Fusion Edge pickups were specifically designed for Ibanez guitars, offering a tight tone that brings out the dynamics of your playing, whether you're shredding, playing intricate chords or riffing.