Line 6 HX Series

---
The Line 6 HX units were made for musicians who want professional performance and high-quality sound in a compact, portable pedal.
All Line 6 HX models have the same SHARC DSP chip and HX modelling technology that's in Line 6's flagship Helix units, so you know you're not compromising on quality by not getting the flagship models, have bright, easy-to-use LCD screens so you can see where you're at, rugged capacitive-sensing footswitches with colour-coded LED's so you don't need to use masking tape and scribble your effects, a choice of DSP or true bypass, flexible signal routing capabilities, stereo effects loops, footswitch/expression pedal jacks, MIDI functionality, third-party IR support, and much more.
The Line 6 HX range has three different multi-effects pedals - HX Effects, which keeps it simple and just has effects, the HX Stomp which is a super-compact yet versatile pedal, and the HX Stomp XL, a new addition to the range which has the same features as the HX Stomp but 8 footswitches instead of 3, making it selecting settings easier. Each Line 6 HX series multi-effects unit is designed to complement your existing rig, rather than be an all-encompassing pedal such as those in the Line 6 POD Go range, or the Helix Range.
---
The Line 6 HX Stomp XL is the latest addition to the HX family - it has the most functionality with 8 footswitches (instead of the 3 on the HX Stomp), 6 editable buttons, a larger screen, more presets, and you can set up an extra 'snapshot' within each preset, which lets you create multiple versions of a single preset. It features the same SHARC DSP chip and HX modelling as Helix processors, and all of the inputs and outputs are on the back panel instead of on the back and the side like the HX Stomp, making it more functional. The Line 6 HX Stomp XL was created after Line 6 reviewed customer feedback saying that they wanted something like the HX Stomp but with more footswitches, and so the HX Stomp XL was born.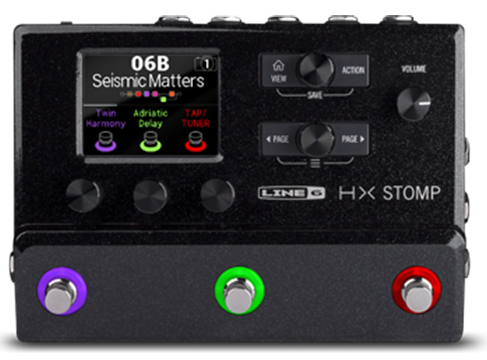 The Line 6 HX Stomp is a versatile and super-compact multi-effects pedal that has a mix of professional-grade amp models and effects, lots of customisation options via presets, and works as a 'super stompbox', a backup rig or a travel rig, an audio interface, or an add-on tone expander. It has fewer onboard controls than other Line 6 Multi-Effects units and just 3 capacitative-sensing footswitches, however, this is an advantage if you want to keep things simple yet functional. The Line 6 HX Stomp provides greater control over your signal chain, more functionality and more processing power. It packs 300 effects presets, amps, and cab impulse responses from the Helix, M-Series and legacy Line 6 products into a tiny package, and you can run up to 6 simultaneous blocks.
The Line 6 HX Effects is a great option if you just want lots of different effects - it doesn't have amp models like the Line 6 POD Go range or other HX units, but it's ideal if you don't need these extra options and don't want to spend more money for features you don't need. The HX Effects has more than 100 Helix effects models, including 77 'legacy' effects from previous Line 6 units to give you a wide range of sounds to experiment with. You can run up to nine 'blocks' at the same time, which could be an effect, volume pedal, looper, or impulse response, and it's ideal for guitarists who want something smaller than the other Helix units that can work with the ease of a traditional stompbox pedalboard.
Pair with the Line 6 EX-1 Expression Pedal to get the most out of your HX unit. Compatible with all Helix, HX, POD Go, and FBV family products.
Each Line 6 Multi-FX Unit comes with a 1-year warranty. Learn more.
---
Check out Line 6's flagship Helix range and the more portable POD Go range:

---